Deanne De Vries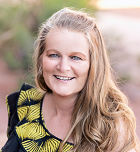 Dr Deanne De Vries is a thought leader and visionary whose 30+ years of starting, operating and growing companies across the continent of Africa help her paint a picture of the realities on the ground that challenge conventional wisdom and change the way people and companies view the continent of Africa. She helps companies – large and small, start up and Fortune 500 – take the guesswork out of expanding into Africa and instead create sustainable and profitable business in Africa that both grows their bottom line and improves the communities within which they are active.
She holds a PhD in Organizational Leadership from Eastern University (Pennsylvania, USA) for which she interviewed Heads of State from across Africa for her dissertation "A Classical Grounded Theory Study of How Heads of State in Africa Lead: A New Theory of Political Leadership". Her MBA thesis from Thunderbird School of Global Management (Arizona, USA) was on "The Role of Culture in Explaining the Dearth of Successful M&As". She also holds BA degrees in International Business and in Business Management with minors in French and German from Central University (Iowa, USA). Dr De Vries conducts business in 6 languages (Dutch, English, French, German, Portuguese and Swahili) and speaks a smattering of Arabic, Spanish and multiple African ethnic languages.
In 2023, she published two books – Africa: Open for Business, and "Africa: Reframing Political Leadership" – both of which are international best-sellers in multiple countries. Today she is an advisor and speaker to companies looking to be part of the African growth story and is keen to introduce more people and students to what she likes to call AfriCAN, the can-do continent.
You can find more about Dr. De Vries on her personal website.
Recent publications:
De Vries, D. Dr. (2022). Africa: Open for Business. Los Angeles, CA: Best Seller Publishing.
De Vries, D. Dr. (2022). Africa: Reframing Political Leadership. Los Angeles, CA: Best Seller Publishing.
Why Now is the Time to Invest in Africa (June 2022)
Why Now is the Time to Invest in and Trade with Africa (June 2022)
Uncovering Africa's vast untapped commercial and industrial resources:Converging supply chains and value chains (February 2023)