Christophe Dongmo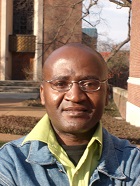 Christophe Dongmo is a Senior Research Fellow and Community & Youth Advocacy Director at Water, Energy & Environment (EEE), a recently founded NGO in Cameroon. In the past, he served as Senior Regional Communication Officer at the International Committee of the Red Cross (ICRC); Country Representative of Denis & Lenora Foretia Foundation; Associate Research Fellow at The Hague Academy of International Law (The Netherlands), Chief-Editor of the Cameroon Journal on Democracy and Human Rights (CJDHR), and Editorial Assistant of The South African Law Journal (SALJ).
Christophe's major fields of interest are political economy of the developing world, international and comparative law of human rights, American race relations and foreign relations history. His track record indicates about fifty combined peer reviewed journal articles, opinion briefs, international conference papers and academic research papers.
A law graduate of the University of Yaoundé (Cameroon), Christophe furthered postgraduate studies in Human Rights Law, International Economics, Economic History, and Political Science at the University of the Witwatersrand (South Africa), School of Advanced International Studies (SAIS - Italy), Vanderbilt University (USA), and The Johns Hopkins University (USA).