Charmaine Williamson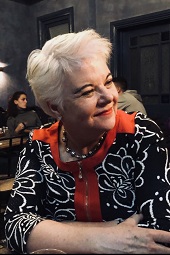 Dr Charmaine Williamson currently works part-time in higher education as an academic, researcher, supervisor/advisor, teacher and facilitator of researcher development programmes. For the rest of her time, she is Adjunct Faculty at the University of South Africa where she supervises and/or supports graduate throughput initiatives. Additionally, she has been appointed as a Research Fellow at the University of South Africa.
She completed her doctorate on strategies around international financing/ resource mobilisation, using organisational strategy and complexity theories within the context of strategies of financing for development co-operation. Since 2008, Charmaine has focused on doctoral education with special emphasis on research processes, qualitative methods and theoretical synergies within research studies. She publishes academically in her field and has presented at a number of international conferences. She has worked as a Project Technical Advisor on various funded projects at the Pan African Parliament (AWEPA, GIZ, AfDB), the National Treasury (CIDA and Presidency of South Africa (EU) (specifically on grant making); as well as regional civil society organisations and South African universities, particularly in the fields of strategy, resource mobilisation, research conceptualisation and research management.
Charmaine's linkage with the African Studies Centre Leiden| Centre d'Études Africaines Leyde is anchored in her former work with the South African-Netherlands Partnership for Alternatives in Development (SANPAD), which was a research and doctoral capacity-building programme funded by the Netherlands and existed from 1997-2014. It funded research and doctoral education in four countries of SADC. From 2008-2014, Charmaine was the part-time Academic Project Manager for Africa & International Programmes with SANTRUST and SANPAD, and also headed up the SANTRUST Ethiopian programme, working with 300 Doctoral Candidates on Doctoral Proposal and Thesis writing.
Dr Williamson has a personal interest in animal rights and post human rights lenses for sustainable development.