Adrian Perkasa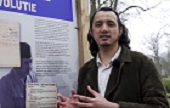 Adrian Perkasa is a historian by training. He received his Bachelor's in history and international relations from Universitas Airlangga, Indonesia in 2012. Currently, he is a PhD candidate at Leiden University. He is a Local Principal Investigator in Surabaya as part of the Southeast Asian Neighborhoods Network (SEANNET), the auspices of the International Institute of Asian Studies (IIAS) in Leiden. Currently, he is also affiliated with Leiden Centre for Indian Ocean Studies. While his work mainly focuses on Indonesian history, he is broadening research interest to how cultural nationalism developed in Asia and Africa in the twentieth century.
List of recent publications:
A. Perkasa, Firmansyah A. (2022) Paper presentation: Looking at Asia-Africa from Kampung: Roeslan Abdulgani from Kampung Surabaya to the General Secretary of the Asia-Africa Conference in Bandung-Belgrade-Havana. Global History and Perspective Conference.