Aderemi Michael Adeoye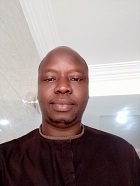 Michael Adeoye, PhD, is a leading multitalented Nigerian artist (a sculptor, painter, poet, novelist, playwright and performance designer) and an international art scholar. He obtained a PhD in Performance Studies and an MA in Visual Arts from the Institute of African Studies, University of Ibadan. He also obtained a BA Ed. in the Department of Fine and Applied Arts, Obafemi Awolowo University, Ile-Ife, Nigeria and an NCE at the College of Education (now Bamidele Olumilua University of Education, Science and Technology), Ikere-Ekiti, Nigeria, where he graduated as the overall best student in 1996, thereby winning the College Creativity Prize as the Most Creative Graduating Student (1995/1996 session). He has won many other laurels, including a national honour from the Federal Ministry of Information and National Orientation as well as recognition and decoration by the Presidency, Abuja, Nigeria, as a Young Entrepreneur, in 2005.
Adeoye became the first African participant in the British Jill Hayes Postdoctoral training and research fellowship in Art and Somatic Performance Therapy, in Cheltenham, England, United Kingdom in 2019. Also in 2019, he taught African and African Diaspora Arts and Performance at the University of Roehampton, London, as a Visiting Lecturer. Currently, he teaches stagecraft at the Department of Theatre and Media Arts, Federal University, Oye–Ekiti, Nigeria.