Epidemics and the health of African nations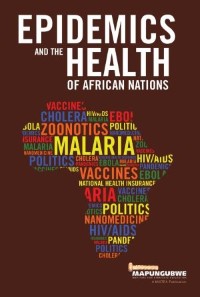 Epidemics and the Health of African Nations, published in 2019 by the South African think tank Mapungubwe Institute for Strategic Reflection (MISTRA), explores Africa's vulnerability to disease and epidemics, as well as how recent epidemics have been dealt with and controlled. The authors, coming from across sub-Saharan Africa, make a case for a multi-faceted approach to building effective national health systems and combating epidemics, arguing that political, socio-economic and environmental factors are all at play. Health is not only a matter for health departments, but also depends on the actions of departments responsible for drinking water and sanitation, nutrition and food quality, waste management, housing, environmental management, and finance.
Recent epidemic outbreaks - case studies
Outbreaks in different African countries of three epidemic diseases, malaria, cholera and Ebola, are studied as to how they were managed, and lessons are extracted from these cases. The importance of timely actions by both health personnel and political leadership in the earliest possible state of epidemic disease outbreak is emphasized. A striking example of this is described by Nathaniel Umukoro in his chapter 'Ebola in Nigeria; an African success story'. In 2014, Nigeria was able to contain Ebola through timely government action in response to early detection of the disease by a courageous doctor, Dr. Ameyo Stella Adadevoh. Despite huge pressure from the patient and other Liberian officials, Dr. Adadevoh refused to discharge a Liberian diplomat who had been diagnosed with malaria after collapsing at Lagos airport, but was suspected by her to have Ebola. Her actions made it possible that all the contacts of this index patient in Nigeria were traced. She herself was eventually one of eight people in Nigeria who died of Ebola.
Nurses and community health workers in the frontline
The book addresses the issue of health care financing and resources, examines possibilities for a reliable and inclusive health insurance system, and encourages the exploration of technological innovations that can strengthen health systems. Miriam Di Paola and Beth Vale, in their chapter 'Knowledge, Power and the Role of Frontline Health Workers for South Africa's Epidemic Preparedness' focus on the crucial role of nurses and community health workers in fighting epidemics in African countries. By far outnumbering doctors in the health workforce, they screen and educate communities, support treatment adherence and, in general, bolster epidemic responses at the community level. In hospitals, due to doctors being absent or in short supply, nurses, in particular, take important decisions in the best interest of patients and attend to serious cases. Yet, under-recognition, underfunding, institutionalised hierarchies, and pressures emanating from managerialist approaches in health service institutions, undermine the vital role of nurses and community health workers.
Zoonoses
The book also focuses attention to the major challenge of emerging zoonotic diseases, i.e. diseases transmitted from animals to humans. A challenge which Africa and the world now face in the form of COVID-19.
Heleen Smits
Posted on 31 March 2020, last modified on 1 December 2022