Sudan's Swinging Film Factory at the 2013 Rotterdam Film Festival
Short films had a prominent position at the International Film Festival Rotterdam (IFFR) 2013. They were everywhere: in the Tiger Awards Competition for Short Films, as part of an installation, preceding a Pathé premiere, and many of them were shown at Lantaren Venster, the shorts' headquarters. With hundreds of films, the IFFR shorts programme is the largest of its kind in the Netherlands and one of the largest in Europe.
By Marijke van der Lee and Katrien Polman
Marijke and Katrien attended a special shorts programme on 31 Januaryat Lantaren Venster called Sudan's Swinging Film Factory. The Sudan Film Factory, initiated by the Goethe-Institut in Khartoum, aims at qualifying and building the capacities of young Sudanese talent, producing films 'made in Sudan', as well as exposing a Sudanese audience to films, film making and cinema. By supporting the creation of Sudanese, regional and international networks, a cultural exchange fosters the exchange of ideas, opinions and aesthetics but also discusses and challenges each other's values, transcending social, cultural and geographical borders.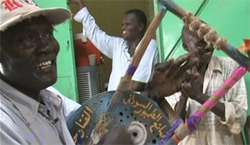 At film workshops in 2010 and 2011, the Sudan Film Factory trained more than 30 participants in the different tools and production phases of film making, starting with writing, cinematography, editing and directing. Six shorts were selected by the IFFR to be screened at the Rotterdam festival, and four of the directors were present at the screening of their films. (One director, the only representative from South Sudan, was unfortunately not able to attend due to visa problems.)
A notable feature of most of these short films was their attention to music, directly or indirectly. This was explained during the Q&A session by the fact that 'music is everywhere' in Khartoum, but was also seen in connection with the general optimism at the time of the elections (2010) and the referendum on South Sudan (2011).
Some of the short films (with descriptions from the IFFR programme) we saw included:
In Search of Hip-Hop
You don't expect to find hip-hop in Sudan. Everything God prohibited really is banned there. When you do find some, it is, at the very least, touching.
Issraa El-Kogali, 2012, Sudan, 11 min.
Rabbaba Man
Rabbabas are traditional stringed instruments. The rabbaba man makes them and goes around selling them: they are much-loved figures who keep the old songs alive.
Mario Mabor Dhalbny, 2010, Sudan, 17 min.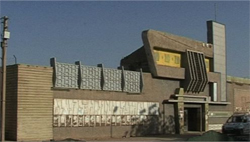 Cinema Behind Bars
There are almost no cinemas in Sudan but they did exist at one point. A cinema owner talks about better days.
Bahaeldin Ibrahim, 2012, Sudan, 30 min.
Nomads
In Sudan even the best musicians have to moonlight to get by. When one group found employment as mechanics, their work became rhythmical.
Mohamed Hanafi, 2012, Sudan, 36 min. Here you can see the trailer.
You can see the full programme of Sudan's Swinging Film Factory. in the link. Here you can find more information about the Sudan Film Factory.
For all the films on Africa shown at IFFR 2013, see this link.
Posted on 1 March 2013, last modified on 1 March 2013