New chair of the Board of Governors: Ms Agnes van Ardenne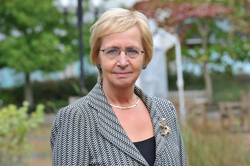 We are proud to announce that Ms A.M.A. van Ardenne will be the new chair of the ASC as of 11 March.
Ms van Ardenne is the president of 'Productschap Tuinbouw' and the former minister of Development cooperation. She was also an ambassador at the FAO in Rome.
The ASC Board of Governors exist of five members representing the political, scientific, business, diplomatic and media sectors in the Netherlands:
Ms. A.M.A. van Ardenne, President Productschap Tuinbouw Dr. B.S.M. Berendsen, Former ambassador to Tanzania Ms. J. Groen, Journalist with the Volkskrant A. Lenstra, Former Vice President of Unilever Prof. dr. J.B. Opschoor, Institute of Social Studies and VU University Amsterdam

Posted on 1 March 2013, last modified on 1 March 2013