Margaret Ogola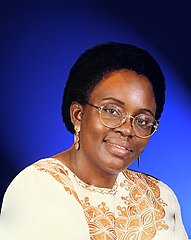 On 21 September 2011, Kenyan novelist, pediatrician, and human rights advocate Margaret Atieno Ogola died in Nairobi at the age of 53. Her literary debut 'The River and the Source' has been on the KCSE syllabus for many years. The novel won the 1995 Jomo Kenyatta Prize for Literature and the 1995 Commonwealth Writers' Prize for Best First Book, Africa Region.
In addition to writing two other novels, a biography, and a book on parenting, Dr. Ogola practiced at Kenyatta National Hospital and served as Medical Director of Cottolengo Hospice for HIV and Aids orphans.
In 1999, Dr. Ogola recieved the 'Familias Award for Humanitarian Service' of the World Congress of Families in Geneva, Switzerland. On 12 June 2019, which would have been her 60th birthday, she was honored with a Google Doodle.
(Source: Wikipedia)
Selected publications
Works by Margaret Ogola
Mandate of the people / Margaret A. Ogola. - Nairobi : Focus Publishers, 2012
The river and the source / Margaret A. Ogola. - Nairobi : Focus Publications, 2006
Place of destiny / Margaret A. Ogola. - Nairobi : Paulines Publications Africa, 2005
I swear by Apollo / Margaret A. Ogola. - Nairobi : Focus Publishers, 2002
Publications about Margaret Ogola's works
In: Research in African literatures, 2021, Vol.52 (1), p.156-169
In: Tydskrif vir letterkunde, 2014, Vol.51 (2), p.144-155
In: African identities, 2006, Vol.4 (2), p.235-250
Atieno: A place of destiny (Documentary film by Jeff Ogola)
Kenyan women novelists via DBpedia and Wikidata
Posted on 21 September 2022, last modified on 19 September 2022