Kofo Ademola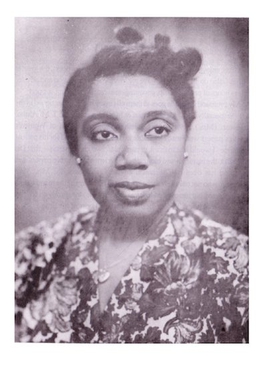 On 15 May 2002, Nigerian educationalist, writer and advocate for women's education Lady Kofoworola Ademola (née Moore) died at the age of 88. She was the president of the National Council of Women Societies in Nigeria and was the head of the women's organization from 1958 to 1964.
Ademola was born on 21 May 1913 in Lagos to the family of the Lagos lawyer Omoba Eric Olawolu Moore and his wife Aida Arabella. She spent half of her young life in Lagos and the other half in the U.K. Ademola was educated at C.M.S. Girls School, Lagos, Vassar College, New York and Portway College, Reading. From 1931 to 1935 she studied at St Hugh's College, Oxford, where she earned a degree in education and English. Whilst at St Hugh's she wrote a 21-page autobiography at the insistence of Margery Perham to challenge British stereotypes about Africans. Ademola returned to Nigeria in 1935 and took up appointment as a teacher at Queens College. While in Lagos she participated in some women organizations such as the YWCA.
In 1939, she married Adetokunbo Ademola, a civil servant. While in Warri with her husband, Ademola was a member of a women's literary circle and a teacher at Warri College. When she moved to Ibadan, she began to cultivate friendship with Elizabeth Adekogbe of the Council of Nigerian Women and Tanimowo Ogunlesi of the Women's Improvement Society. She was a member of the latter and was a bridge linking both organizations and a few others to form a collective organization. In 1958, when the National Council of Women Societies was formed she was chosen as the first president. As president, she became a board member of the International Council of Women.
Ademola was also a social worker, teacher and educator, she co-founded two schools: the Girls Secondary Modern School in Lagos and New Era Girls' Secondary School, Lagos. She was a director of the board of trustees of the United Bank for Africa and secretary of the Western Region Scholarship Board. She also wrote children's books, many of them based in West African folklore, including Greedy Wife and the Magic Spoon, Ojeje Trader and the Magic Pebbles, Tutu and the Magic Gourds, and Tortoise and the Clever Ant, all part of the 'Mudhut Book' series.
Ademola was appointed a Member of the Order of the British Empire in 1959. Abubakar Tafawa Balewa's government awarded her the honor of membership of the Order of the Federal Republic.
(Source: Wikipedia)
Selected publications
Lady Kofoworola Abeni Ademola, 1913-2002.
The Story of Kofoworola Aina Moore, of the Yoruba Tribe, Nigeria, written by herself.
In: Ten Africans / Margery Perham. - London : Faber and Faber, 1963
Listen also to the podcast on Kofoworola Moore (1913-2002), Women in Oxford's History Podcast, Series One, [2016]
Timeline of 20th-century Nigerian educators via DBpedia and Wikidata
Posted on 15 May 2022, last modified on 9 May 2022