Khady Sylla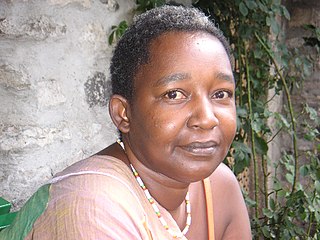 On October 8 2013, Senegalese writer and filmmaker Khady Sylla died in Dakar at the age of 50. In 2005, she won an award for her film 'An Open Window' at the International Documentary Festival (FID) in Marseille.
Khady Sylla was born in Dakar on March 27 1963. Following graduation, she went to Paris and studied philosophy at the École Normale Supérieure. Sylla became interested in a literary career, taught basic education to migrant workers and wrote many short stories and a novel before embarking on film production. She is part of an early wave of African women filmmakers and worked on and participated in different projects. She also taught German at Université Cheikh Anta Diop in Dakar, Senegal.
(Source: Wikipedia & African Film Festival New York)
Selected publications
Works by Khady Sylla
The silent monologue / Khady Sylla; Charlie van Damme. - [S.l. : s.n.], 2008
Une fenêtre ouverte / Khady Sylla; Athénaïse Production (Firm); Guis Guis Communications; Doc Net Films. - [Lussas, France] : Doc Net Films, [2005]
Colobane express / Khady Sylla. - [Paris] : Médiatheque des trois mondes, 2000
Le jeu de la mer / Khady Sylla. - Paris : L'Harmattan, cop. 1992
Publications about Khady Sylla and her work
Jean Rouch, l'homme-cinéma : découvrir les films de Jean Rouch. / Jean Rouch [et al.]. - Paris : Somogy éditions d'art : CNC : BnF éditions, [2017]
The Silent Monologue by Khady Sylla and Charlie Van Damme: Some (not so New) Gendered Stories of Globalization / Odile Cazenave.
In: Diogenes, 2015, Vol.62 (1), p.48-56
Ethical Madness? Khady Sylla's Documentary Practice in Une Fenêtre ouverte / Bronwen Pugsley.
In: Nottingham French studies, 2012, Vol.51 (2), p.204-219
Entretien avec Khady Sylla.
In: Gaasch, James. La Nouvelle sénégalaise - Texte et Contexte. Saint-Louis du Sénégal : Editions Xamal, 2000 (pp.184-186). ISBN 2 84402-021-6.
[See also the short stories "L'Univers" and "Le labyrinthe" in the same publication (p.187-199)]
Ecrivain, cinéaste: Mme Khady Sylla.
In: Amina 351 Juillet (1999), pp.44 et 46.
Khady Sylla
Timeline of Senegalese film directors via DBpedia and Wikidata
Posted on 8 October 2022, last modified on 6 October 2022