Bessie Head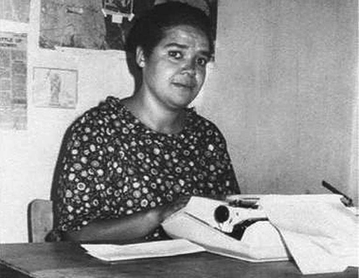 On 6 July 1937, Bessie Amelia Emery Head was born in Pietermaritzburg. Although she was born in South Africa, she is usually considered Botswana's most influential writer.
Bessie Head was born of an illegal union between her white mother and black father at Fort Napier Mental Institution where her mother was a patient. At the age of twelve she moved from her foster parents to St. Monica's Home for Coloured Girls, an Anglican boarding-school in Durban where she learned the truth about her birth in a harsh way. The discovery about her real identity marked her for the rest of her life.
After having passed her Junior Certificate examination, Head trained as a teacher but eventually went to Cape Town where she worked as a journalist for the 'Golden City Post'. In July 1961, she met the writer Harold Head whom she married on 1 September 1961. In March 1964, Head abandoned her homeland, her job, and her husband and took her small son to Botswana, seeking personal asylum. She finally settled in Serowe, an urban village in Botswana's Central District.
Many of Bessie Head's works are set in Serowe, such as the novels 'When Rain Clouds Gather' (1968), 'Maru' (1971), and 'A Question of Power' (1973). The three are also autobiographical; 'When Rain Clouds Gather' is based on her experience living on a development farm, 'Maru' incorporates her experience of being considered racially inferior, and 'A Question of Power draws' on her understanding of what it was like to experience acute psychological distress. Head also published a number of short stories.
Bessie Head died in Serowe on 17 April 1986 from hepatitis. Her papers are stored in the Khama III Memorial Museum in Serowe.
(Source: Wikipedia & Dictionary of African biography)
Selected publications
Publications by Bessie Head
The cardinals : with meditations and stories / Bessie Head. - Cape Town : David Philip, 1993
When rain clouds gather / Bessie Head. - London [etc.] : Heinemann, 1987
Serowe, village of the rainwind / Bessie Head. - London [etc.] : Heinemann, 1981
A question of power : a novel / Bessie Head. - New York : Pantheon Books, [1974, c1973]
Maru / Bessie Head. - London [etc.] : Heinemann, 1972
Publications about Bessie Head and her work
Bessie Head and the trauma of exile : identity and alienation in Southern African fiction / Joshua Agbo. - Abingdon, Oxon : Routledge, [2021]
A woman alone : autobiographical writings / Bessie Head ; Craig MacKenzie. - London : Heinemann, 1990
Emerging perspectives on Bessie Head / Huma Ibrahim. - Trenton, NJ [etc.] : Africa World, 2004
Critical essays on Bessie Head / Martine J. Cornish Sample. Westport, CT : Greenwood Press, 2003
Bessie Head : thunder behind her ears : her life and writing / Gillian Stead Eilersen. - Cape Town [etc.] : David Philip ; London : Currey ; Portsmouth, NH : Heinemann, 1995
Advanced Topics in Postcolonialism Bessie Head, A Question of Power.
Lecture by Michael Moir, 13 nov. 2017
Timeline of Botswana women writers via DBpedia and Wikidata
Posted on 6 July 2022, last modified on 5 July 2022