Libraries in Africa - A Small Exhibition
by Jos Damen
Running a library in Africa is a difficult job. In addition to the usual problems that are faced by libraries around the world, African librarians have to contend with issues such as high temperatures, above-average humidity levels and ferocious insects. And of course there is the perennial problem of money. A lack of funding leads to problems with accessing electronic databases, bad/slow Internet connections and the like. In fact, African librarians should be put on a pedestal for just keeping the show on the road!
Publications on Libraries in Africa & General Paraphernalia
The ASC Library filled a (small) showcase with objects on and from African libraries in September 2012. The items on show were diverse: books, journal articles, postcards, advertisements, library bags and of course a well-guarded, beautiful, old-fashioned catalogue tray to remind us of the transiency of life. Some wonderful books can be seen in the exhibition ranging from titles like Les bibliothèques des pays du Sahel to Apartheid in South African Libraries. Something particularly special was The Camel Bookmobile – the story of a scheme set up 'to bring books to scattered tribes whose daily life is dominated by drought, famine and disease'.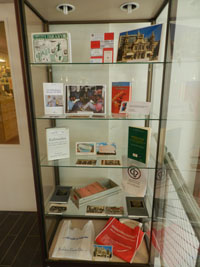 Postcards & Wikipedia
A dozen postcards of African libraries were also quite eye-catching. They came from the Koopman Collection which has more than 13,000 postcards of libraries. These were collected by Sjoerd Koopman, the former secretary of the IFLA library organization. Many of the postcards of African libraries were digitized and made available via Wikimedia Commons. This immediately resulted re-usage in Wikipedia. Now the world can see how famous British modernist architects like Maxwell Fry and Dame Jane Drew designed the Kenneth Onwuka Dike Library (and other buildings) at Ibadan University. And what the Central Library in Accra and the 'New' (Public) Library in Johannesburg looked like 50 years ago, not to mention the library of the Base Aérienne in EsSenia (Algeria), the Children's Centre in Nsukka (Nigeria) and the famous Bibliotheca Alexandrina in Egypt.
The Libraries in Africa exhibition is on display until 15 October 2012 in the library of the African Studies Centre in Leiden.
Posted on 10 October 2012, last modified on 10 October 2012