Introduction of the ASC Community (Habari no. 1, 2012)
Dear Members of the ASC Community,
The African Studies Centre in Leiden is celebrating its 65th anniversary this year and has lots of activities planned to mark the occasion. These include a big conference entitled 'Africa Works! 21st Century Trends' on 29 and 30 October 2012, which is being organized with the Netherlands African Business Council, with whom the ASC started out as the 'Afrika Instituut' in 1947.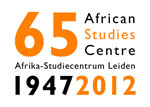 Over the last 65 years, the ASC has become one of the leading centres of African Studies, with a world-class library and documentation centre that offers a wide variety of services to its users. The ASC's new research programme is called 'Africa and Global Restructuring' and will cover four main fields of enquiry: Resources and Well-being; Constellations of Governance; Identification in a Media Age; and Africa's Connections with the World. It will build on the ASC's rich history of academically innovative research that provides a useful basis for research training, public debate and evidence-based policies and practices.
The ASC has numerous contacts in the worlds of academia, policy, business, media and NGOs, and many different people – in the Netherlands, in Africa and in other parts of the world – make use of the publications and services the ASC provides. In 2011 it was decided to facilitate these contacts in a more systematic way by starting the ASC Community for Africanists with some connection to the Netherlands or who are in the Netherlands itself, in Africa or elsewhere. The ASC Community would like to have contacts with three different groups of people and to link them to the ASC in a more visible and mutually beneficial way:
Fellows: these are academics who have a PhD (preferably on Africa) and who have published at least three serious academic publications in the last three years. This group will include our current and former Visiting Fellows, among others.
Affiliates: these are PhD and Research Masters' students who are working on an Africanist topic and are connected to a Dutch academic institution.
Associates: these are Africanists who are mainly working in a non-academic/non-university setting but who are interested in being connected to the ASC and its group (Community) of knowledge workers.
If you would like to become a fellow or an affiliate of the ASC Community, please contact Maaike Westra: westra@ascleiden.nl
If you would like to become an associate member of the ASC Community, please contact Marieke van Winden: winden@ascleiden.nl
And if you would like to contribute to this monthly electronic newsletter, please contact Pieter Both: p.both@ascleiden.nl
This electronic ASC Community Newsletter is one of the facilities the ASC is planning to offer members, and we would welcome your input, comments and suggestions. We look forward to hearing from you and to hopefully welcoming you into our new ASC Community.
Kind regards
Ton Dietz
Director African Studies Centre Leiden
Posted on 11 June 2012, last modified on 11 June 2012