China in Africa (Habari no. 1, 2012)

The People's Republic of China's renewed interest in Africa has been a topic of ASC Leiden research over the past several years. It has been discussed at a number of seminars, most recently on 28 March 2012, when Deborah Brautigam presented her seminar on What can Western donors learn from China's approach in Africa?
Among our latest publications two highlights: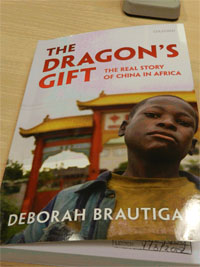 The Dragon's gift written by Deborah Brautigam
Is China a rogue donor, as some media pundits suggest? Or is China helping the developing world pave a pathway out of poverty, as the Chinese claim? In the last few years, China's aid program has leapt out of the shadows. Media reports about huge aid packages, support for pariah regimes, regiments of Chinese labor, and the ruthless exploitation of workers and natural resources in some of the poorest countries in the world sparked fierce debates. These debates, however, took place with very few hard facts. China's tradition of secrecy about its aid fueled rumors and speculation, making it difficult to gauge the risks and opportunities provided by China's growing embrace. This well-timed book, by one of the world's leading experts, provides the first comprehensive account of China's aid and economic cooperation overseas.
You can borrow the book in our library: AFRIKA 41348
Another highlight on China and Africa is the movie: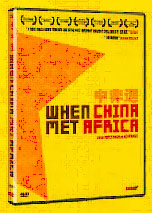 When China met Africa
A historic gathering of over 50 African heads of state in Beijing reverberates in Zambia where the lives of three characters unfold. Mr Liu is one of thousands of Chinese entrepreneurs who have settled across the continent in search of new opportunities. He has just bought his fourth farm and business is booming.
You can borrow the film: AFRIKA AVM1186
For more publications and webresources on China in Africa see:
China in Africa is also on display in the library's showcase this month
Tipp, see also
Posted on 11 June 2012, last modified on 16 July 2013