This research theme involves several projects.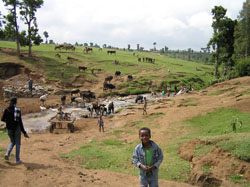 Africa provides a wide range of experiences with regard to economic development and well-being, as well as an array of aspirations and opportunities for a better life. These are apparent in the life histories and plans of individuals but also in the diverse 'planned development and change' models that the state, international donors and non-state actors have initiated and promoted. They are evident in private-sector investments and strategic business plans too.
People have exploited and transformed natural and other (financial, human) resources to create economic, social, political and cultural networks and institutions locally, regionally and (trans)nationally. And people have been involved in processes of inclusion as well as exclusion. Over time, individual and collective plans for improved well-being may have worked out differently because people live and work in highly volatile, uncertain and often adverse social, economic and political conditions, and the intentions and aspirations of some clash with those of others.
What is central here is how individual and collective plans and actions affect Africans' trajectories to improved well-being at the level of the individual, the local community, the region and the state within the context of global restructuring. More specifically, the ASCL aims to arrive at a better understanding of: (i) how people in contemporary Africa perceive the role of and use Africa's main physical resources – (arable) land, mineral resources, livestock, physical infrastructure, water and labour – in their trajectories towards improved well-being; (ii) how these perceptions and uses relate to and interact with the economic, social and political contexts that are increasingly being shaped by today's global restructuring (including transnational companies that are linked to headquarters across the globe); and (iii) the effects of individual and collective plans and trajectories on the productive potential and sustainability of these resources.
The focal points in this field of inquiry include: (i) possibilities for improved well-being in terms of land, water and food security and more inclusive access to these resources; (ii) issues of food, land, water and youth (un-)employment in and around Africa's expanding urban centres; and (iii) the effects of changing perceptions and the use of resources on the quality of life and human development (physical and mental health, nutrition, educational level and skills).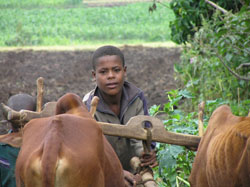 For example, one project will focus on the impact on rural hinterlands of the increasing demands for food, water and energy from Africa's urban centres and competing claims on land and water for the (export) production of food, biofuel and other agricultural products. The research will consider the implications of this for food security in urban and rural settings, and issues of cooperation and conflict over natural resources.
This research theme involves the following projects:
Research project, Completed
Research project, Completed
Research project, Completed
Research project, Completed
Research project, Ongoing
Research project, Ongoing
Research project, Completed
Research project, Ongoing
Research project, Completed
Research project, Ongoing
Research project, Completed
Research project, Completed
Research project, Completed
Research project, Ongoing
Research project, Completed