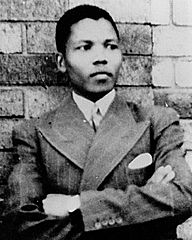 A document has been discovered in a Russian archive proving that Nelson Mandela was a member of the South African Communist Party (SACP) in the early 1960s. The document was brought to light by Russian historian Irina Filatova, who wrote an article about it on the South African site Politicsweb:
Mandela and the SACP: Time to close the debate?
. It confirms the evidence of Mandela's Party membership that was published by ASC senior researcher
Stephen Ellis
in 2011 and in his subsequent book,
External Mission: The ANC in Exile, 1960-1990
.
According to Stephen Ellis, the subject remains controversial because Mandela himself always denied his Party membership. 'Some historians and commentators have refused to accept the evidence even after both the African National Congress (ANC) and the SACP had issued statements confirming that Mandela had been a member of the Communist Party, sitting on the Central Committee, following his death in December 2013.'
The newly emerged evidence is a 1962 document in the records of the Soviet Afro-Asian Solidarity Committee, in which the Committee requests the Central Committee of the Communist Party of the Soviet Union (CPSU) for permission to provide financial assistance to a number of ANC leaders including SACP member Nelson Mandela. The document's authenticity has been confirmed by the historian Vladimir Shubin, for many years the CPSU Central Committee official responsible for ties with the SACP and the ANC.
'The fact of Mandela's membership is important for understanding the history of the ANC and of South Africa up to the present day', Prof. Ellis says. 'All four of South Africa's post-apartheid presidents have held senior membership positions in the SACP. It has now become easier to appreciate the extent to which the Marxism-Leninism of the last century has continued to influence their policies.'
For further details see Irina Filatova's article Mandela and the SACP: Time to close the debate? on Politicsweb, 24 June 2015.
Posted on 29 June 2015, last modified on 3 July 2015