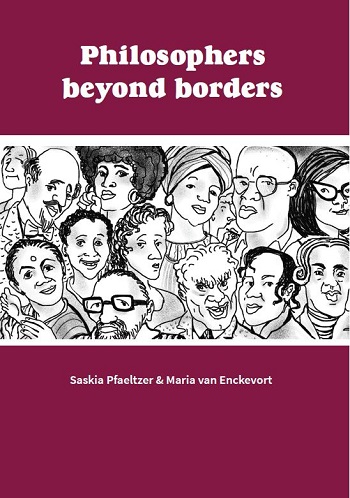 Philosophers beyond borders celebrates an array of philosophers hailing from Africa and the African diaspora, South America, South Asia, the Caribbean, and beyond. The diverse collection spans the ages, including philosophers such as Anton Wilhelm Amo, W.E.B. Du Bois and Frantz Fanon, as well as those alive and still teaching: Gayatri Spivak, bell hooks and Achille Mbembe, to name just a few. Succinct biographies are accompanied by characterful black and white portraits of each individual philosopher. The biographies contain thought-provoking quotations and direct the reader to the philosophers' selected works.
This book was born of a desire for greater representation from non-European thinkers, and aims to contribute to a broader, more balanced view of philosophy and philosophers within colleges, universities and further afield.
What the makers, Saskia Pfaeltzer (visual artist) and Maria van Enckevort (educator and historian), say: 'The thirty philosophers are presented neither alphabetically nor chronologically; at an early stage it became clear that a web of connections exists between the various philosophers. We only had to follow the lead. Like them, "Have the courage to think for yourself".'
Read and see the book. If you wish to buy the book, see the bottom of this page.
Praise for the book:
Adriaan van Dis (writer): 'An inspiring introduction that makes your world bigger and frees you from the stuffy western – and sometimes overly white – thinking. Useful and necessary brain gymnastics, especially now that more and more countries tend to turn inward and embrace the myth of "our own people first". An eyeopener!'
Margriet Schavemaker (Director Amsterdam Museum, the Netherlands): 'With so much joy I looked at the large variety of very artistically and detailed portraits of the philosophers accompienied by these crisp chosen quotes. What a joy and enrichment for everybody's library, even if you never encountered a book of any thinker.'
Has video content - Youtube, Vimeo, trailers, research video's, etc. Not needed for seminar video's:
Seminar videolink NOT WORKING - paste it here so we can solve that later:
Describe the problem here in short
Posted on 17 November 2020, last modified on 4 January 2021