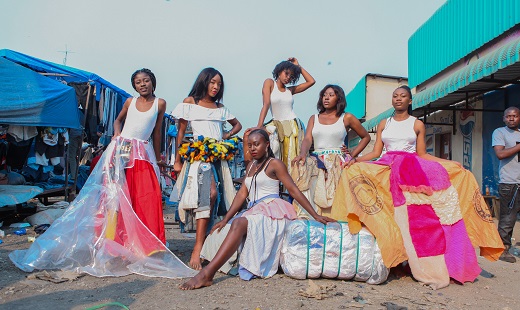 The trade in donated second-hand clothes from the West to Africa is worth $ 5 billion per year, transforming 8 billion kilos of unwanted garments into a new commodity. Yet vast amounts of these clothes still end up at landfills.
Social designer Lotte de Haan investigated the shifting value of clothing waste, tracing its journey from residual product to commodity to residual product: from the collection, sorting and compressing of textiles in the West to their reinvention in Zambia's huge Salaula markets. Collaborating with a variety of vendors in Lusaka's Salaula market, she has created a collection of pieces of old clothes from wholesalers to clothing pickers and tailors. Each one portrays a geographic territory and the impact of its discarded textiles on Zambia. Together, they express the new global process of the used-before clothing market. A collection of photographs of the process and of the designs will be presented at the African Studies Centre Leiden.
Read more about the exhibition.
To celebrate the opening of this exhibition, there will be drinks. Lotte de Haan will give a talk and a guided tour. Please register.
Seminar location:
Pieter de la Court building / Faculty of Social Sciences, Wassenaarseweg 52, 2333 AK Leiden
Has video content - Youtube, Vimeo, trailers, research video's, etc. Not needed for seminar video's:
Seminar videolink NOT WORKING - paste it here so we can solve that later:
Describe the problem here in short
Posted on 16 January 2020, last modified on 4 February 2020