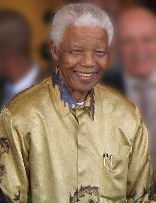 A life for Africa
Nelson Mandela was the greatest statesman that Africa has produced. His reputation is based above all on the enormous dignity and magnanimity that he showed after he was released from prison, after 27 years behind bars, in 1990. He was able to reassure his countrymen and the wider world that looked on, entranced, there would be no race war in South Africa, as many people had feared. Among South Africans black and white, Mandela's achievement endured throughout the years after he had stepped down as president in 1999, even though his dream of a rainbow nation began to look tattered. Worldwide, Mandela has become a revered figure in the mode of Gandhi and Martin Luther King.
Armed resistance
Yet the comparison with these other two political icons is misleading, as a major part of Mandela's attraction to anti-apartheid activists in South Africa was his willingness to lead them in battle: he was the first commander of Umkhonto we Sizwe, a guerrilla organisation initiated by the South African Communist Party (SACP) and later adopted by the African National Congress (ANC) as its own.
Mandela's career of militancy began early. In 1944, when he was 26 years old, Mandela was one of the founders of the Youth League, which breathed new life into an ANC that many of his generation believed had become no more than a polite talking-shop. The Youth League inspired the mass campaigns of protest against apartheid that were a feature of South African political life in the 1950s. It was then that Mandela decided that armed resistance against South Africa's apartheid government would one day become inevitable: this was a matter he discussed with his close friend, ANC secretary-general Walter Sisulu, who raised the question of support for an armed movement with Chinese Communist Party officials during a visit to Beijing in 1953.
SACP
Seven years later, after the killing of 69 protestors by police in Sharpeville, Mandela decided to put his plan into action. When the ANC was banned by the government in April 1960, he joined the underground SACP, intending to enlist its experience and its international connections in the service of the armed organisation he intended to create. Although Mandela always denied ever having joined the SACP, the evidence is overwhelming that he did join, probably in 1960, and he appears to have been co-opted straight into the Party's Central Committee. With comrades from the Party, Mandela went on to organise Umkhonto we Sizwe. However, during a subsequent tour of Africa to garner support for the armed struggle that he had initiated, numerous African leaders expressed their disapproval of the ANC's alliance with the SACP. As a result, Mandela was taking his distance from the Party when he was arrested by the South African police in 1962, most probably as a result of a tip off from a US intelligence officer.
Father figure
It was because of his unrepentant militancy that Mandela was never adopted as a prisoner of conscience by Amnesty International. But it was also his readiness to take up arms that made Mandela popular among younger generations of militants. He developed an ability, unique in the ANC, to appeal to every section of a movement that was riven by competing factions. Mandela was at once a fighter, a moderate and, by the time he was released from prison to lead his people in the transition from apartheid, a father-figure.
South Africa now
Nelson Mandela seems set to be remembered for as long as history is written. Yet the ANC that he led in the 1990s, and the country that he brought from the brink of full-scale war to respectability, has entered a period of turbulence that was hard to foresee on the day that Mandela – often known in South Africa as Madiba, by reference to his Xhosa clan name - was sworn in as the first post-apartheid president in 1994. The ANC itself has become mired in corruption and even in violence, as rivals compete for official positions. The country's president, Jacob Zuma, is unpopular, and widely criticised for his inactivity.
At the end of the last century, it seemed as though Mandela would be remembered as the man who ushered South Africa to a brighter and a greater future. It is now looking steadily more likely that he might be remembered as a flash of light in a history that remains, alas, one of grim struggle.
Stephen Ellis, African Studies Centre, Leiden
(Photo: South Africa The Good News / sagoodnews.co.za)
Should you wish to speak to one of our experts on South Africa, you can contact press officer Marieke van Winden: (+31) (0)6 407 304 91 or Fenneken Veldkamp (+31) (0)6 5121 9944.
Posted on 6 December 2013, last modified on 12 December 2013