This year's Annual Meeting of the Leiden African Studies Assembly (LeidenASA) will take place on 7 December 2017 at the Museum Volkenkunde in Leiden. The Meeting is open to all members of LeidenASA, staff and students of Leiden University. Also Africanists and students of Delft University and Erasmus University are welcome as they are part of the Leiden-Delft-Erasmus strategic alliance. Please register: leidenasa@asc.leidenuniv.nl
Prof. Dr. Elísio Macamo (Centre for African Studies, University of Basel) will deliver a keynote speech: 'If Africans could Speak: Knowledge and Authority in African Studies'.
Like last year, the Africa Thesis Award will be presented to its winner. This year, Adriaan Steyn, alumnus of Stellenbosch University (South Africa) has won the Award. He will give a presentation about his thesis A new laager for a 'new' South Africa: Afrikaans film and the imagined boundaries of Afrikanerdom.
The full programme can be found here (Adobe PDF).
Seminar location:
Museum Volkenkunde, Steenstraat 1, 2312 BS, Leiden
More about the speaker: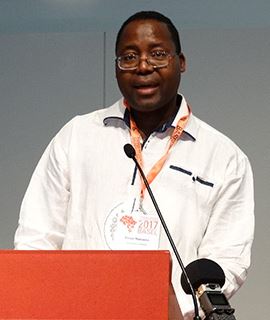 Elísio Macamo is Associate Professor of African Studies at the University of Basel. Previsouly (until 2009) he taught development Sociology at the University of Bayreuth, where he was a founding member of the Bayreuth International Graduate School of African Studies. Elísio Macamo was born and grew up in Mozambique.
Has video content - Youtube, Vimeo, trailers, research video's, etc. Not needed for seminar video's:
Seminar videolink NOT WORKING - paste it here so we can solve that later:
Describe the problem here in short
Posted on 19 October 2017, last modified on 2 March 2018