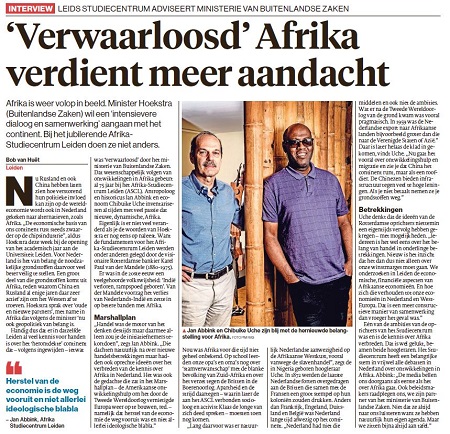 (English below).
Algemeen Dagblad interviewde Jan Abbink en Chibuike Uche over 75 jaar Afrika-Studiecentrum, de rol van handel tussen Afrikaanse landen en Nederland - bij de oprichting in 1947 en nu -, en de bredere maatschappelijke betekenis van het Afrika-Studiecentrum.
Lees het artikel online of als pdf.
English
Dutch newspaper Algemeen Dagblad interviewed Jan Abbink and Chibuike Uche about 75 years of African Studies Centre, the role of trade between African countries and the Netherlands - at the time of its establishment in 1947 and now -, and the broader societal significance of the ASCL.
Read the article online or as a pdf (in Dutch).
Photo credit: Pim Ras
Has video content - Youtube, Vimeo, trailers, research video's, etc. Not needed for seminar video's:
Seminar videolink NOT WORKING - paste it here so we can solve that later:
Describe the problem here in short
Posted on 7 September 2022, last modified on 12 October 2022