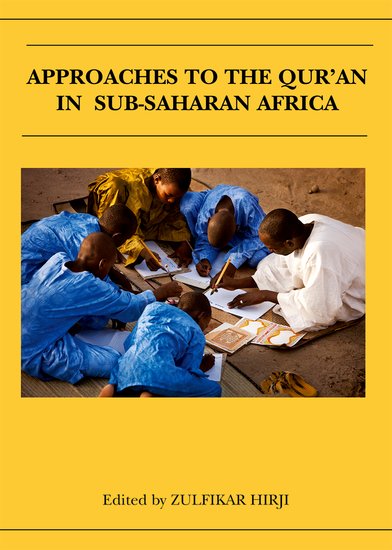 This book chaper appeared in Approaches to the Qur'an in Sub-Saharan Africa, edited by Zulfikar Hirji, Qur'anic studies series Oxford: Oxford university. 189-230.
About the book chapter
In Ali Jumaa Mayunga's Qur'an translation in Swahili, 'Qur'an inayobainisha' (The Qur'an that Explains; 2003 and 2008) he treats not only purely ritual matters but puts even more emphasis on historical issues, often in the form of extensive annexes and inserted essays. His Qur'an translation is embedded in three layers of history– personal, Islamic and contemporary. Both editions of Mayunga's Qur'an show the connection between the sacred text and personal life history of the author.
Read an abstract.
About the volume
Covering a period from the eighteenth century to the early twenty-first century, this multidisciplinary volume examines Muslim engagements with the Qur'an in a variety of geographical locations in sub-Saharan Africa including Burkina Faso, Kenya, Mali, Niger, Nigeria, Senegal, and Tanzania. The volume's twelve case studies use different frameworks and methodological approaches from the academic disciplines of philology, historiography, anthropology, and art history. These studies explore a variety of media and modalities that Muslims in sub-Saharan Africa, as elsewhere, use in their engagements with the Qur'an. These include: manuscripts; commentaries; translations; recitations and invocations; music and poetry; magical squares and symbolic repertoire; medicinal and curative acts; textiles, ink, paper, and wooden boards; spaces of education, healing and prayer, as well as spaces of dreams and spirit worlds. As such, the case studies move well beyond the materiality of the Qur'an as a physical book to explore the ways in which the Qur'an is understood, felt and imagined, as well as the contestations and debates that arise from these diverse engagements.
Has video content - Youtube, Vimeo, trailers, research video's, etc. Not needed for seminar video's:
Seminar videolink NOT WORKING - paste it here so we can solve that later:
Describe the problem here in short
Posted on 7 November 2019, last modified on 8 November 2019