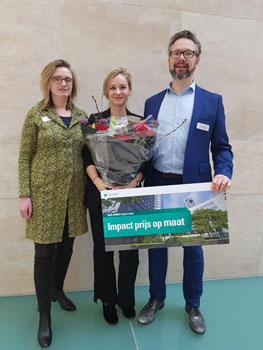 The Breaking Down Barriers project, a collaboration between the Liliane Foundation and the African Studies Centre Leiden, has won the Impact Challenge Award 2019. The award is a prize for Dutch charity organizations that care strongly about the effectiveness of their strategies. The ASCL has coordinated the research programme for the project. Other nominees were the Lung Fund, the Max Foundation, the Dutch Foundation for Disabled Children, and Simavi. According to the expert jury and the audience that was present at the Impact Challenge Event on 29 March, the Breaking Down Barriers project has shown most development and the involved organizations have shared their knowledge and experience best.
(On the photo, right: Willem Elbers, senior researcher of the ASCL).
Aim of the project, of which the full name is 'Breaking down barriers to exclusion. Building capacity for lobby and advocacy for children with disabilities', is to identify the success factors of advocacy for children with disabilities. Together with One Family People in Sierra Leone, The Cameroon Baptist Convention Health Services and Cheshire Homes Society of Zambia, the project uses academic research as input to build capacity for effective disability advocacy.
The Liliane Fonds will receive a tailored prize: support from an expert team of ABN Amro bank to work on a strategic, impact enhancing issue.
Has video content - Youtube, Vimeo, trailers, research video's, etc. Not needed for seminar video's:
Seminar videolink NOT WORKING - paste it here so we can solve that later:
Describe the problem here in short
Posted on 1 April 2019, last modified on 2 May 2019