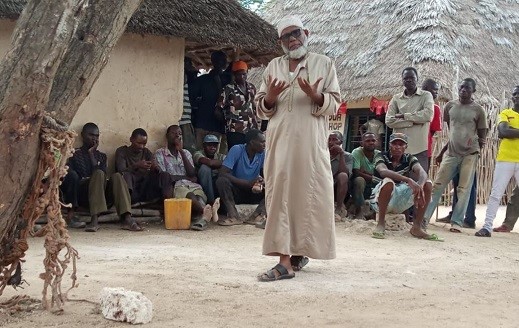 ASCL researcher Annachiara Raia has been awarded a grant to digitise the Ustadh Mau Swahili Muslim collection in Lamu, Kenya. The project is supported by the Modern Endangered Archives Program at the UCLA Library with funding from Arcadia, a charitable fund of Lisbet Rausing and Peter Baldwin.
Mahmoud Ahmed Abdulkadir, locally known as Ustadh Mau, is an eminent poet and imam from Lamu island, Kenya. His private library houses Swahili Muslim manuscript poetry in ajami, booklets and memoirs from the Middle East and India. Besides manuscripts and print material, his library treasures audio cassettes of his Friday sermons, delivered since 1986 from the oldest surviving mosque on Lamu. Mau's Swahili poetry and sermons reflect on education, social justice, morality and piety; his memoirs narrate his thirst for knowledge and social commitment. The digitisation project will enhance open accessibility to an important Islamic heritage hub of Swahili intellectual history and poetic production.
Damage by insects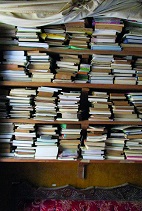 Social and environmental conditions pose a serious risk to Ustadh Mau's library, with limited resources for archival preservation. Insects have already caused damage to his books and curtains to protect the texts from the sun cannot help any longer. It is urgent to convert the audio recordings from cassettes into digital. According to Raia, if this collection is not curated and digitised soon, the handwritten poems will no longer be legible, get easily lost or torn apart. The storage of his poetry, sermons and photos memoir is not well-ordered nor stored in appropriate containers. If the digitisation is not done now, it will be too late.
The significance of the materials
The old town of Lamu is UNESCO World Heritage-listed. To uncover this isolated local collection will raise awareness on the island literary history, conceived outside of Western epistemologies. Within the current debate of decolonising knowledge and archives, the access to Mau's library will have a transformative impact. His sermons, texts and familiar networks are known or listened to only by local Muslim publics. Providing these materials on an open access platform will open them up for new audiences and will allow for new research into Swahili modern intellectual history.
Unravelling Islamic literary networks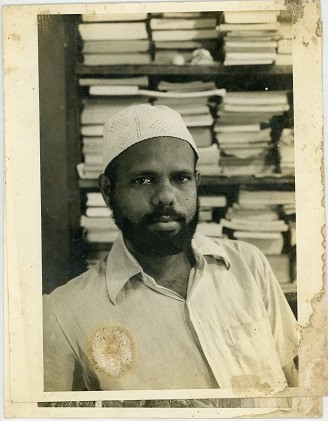 Opening up Mau's archive will allow to unravel and map Islamic literary networks from the margins of the western Indian Ocean. Mau's memoirs and print material uncover far-reaching familiar networks with the Middle East and India which since the '30s played an important role in the modernisation of African Islamic literary production. His material will enhance new research on East Africa and the Indian Ocean, Swahili coastal literacies (Swahili in Arabic and Roman script) and the interplay between manuscript, orality and aurality in the digital age.
International cooperation for digital preservation
Several archival partners have agreed to host and make available in open access the collection once completed, among which the Library of the African Studies Centre Leiden and Iwalewa House (Bayreuth University). In East Africa, the National Museum Kenya (NMK) will execute the digitisation process with a local team that will use photographic equipment and processing software. Further collaboration with the Zanzibar Institute for Archives and Records (ZIAR) and stakeholders is also envisaged.
The project will be called 'Ustadh Mau Digital Archive' (UMADA).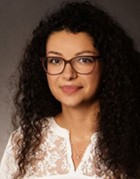 Annachiara Raia is University Lecturer and researcher at the African Studies Centre Leiden and the Leiden University Centre for the Arts in Society where she teaches African oral and written literature. With a grant from Leiden University Centre of Islam in Society, she has run the research programme 'Travelling Islam: The Circulation of Ideas in Africa'.
=> Read Annachiara Raia's blog about her visits to Ustadh Mahmoud Mau's home library.
=> Read an interview with Annachiara Raia about her research from June 2019.
Has video content - Youtube, Vimeo, trailers, research video's, etc. Not needed for seminar video's:
Seminar videolink NOT WORKING - paste it here so we can solve that later:
Describe the problem here in short
Posted on 5 July 2021, last modified on 20 May 2022