Introduction
'Good Shot!' 50 points! A giant buck exploded in a cloud of red mist on the large computer screen in the immigration office near the departure terminal of the ferry port in Zanzibar. For the last twenty minutes I had been desperately trying to explain to three immigration officers why I had entered the country on a B1 visa (intended for conference visits and related activities). The problem was that the international symposium on the history of Islamic civilization in Eastern Africa had already finished by the time I needed to cross the Indian Ocean from Zanzibar to mainland Tanzania. So I needed another visa for the mainland. The discussion was friendly enough and it soon turned into a cross examination to establish how good my Arabic actually was. One of the officers related his life history and how he had completed a madrasa before joining the immigration service. This job was only partly providing for his family's daily needs it turned out, and he was also teaching part-time at a secondary school.
Even though it was a friendly conversation, I was fully aware of the power differences. I was, until proven otherwise, guilty of transgressing immigration laws and this could have serious consequences. The fourth officer taking part in the discussion was doing his best to improve his 'Deer Drive' score at the same time and intermittently asking for assistance in adjusting his rifle scope. The computer voice warning me about an approaching grizzly bear added to my feelings of alienation.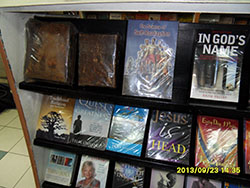 This research and acquisitions trip was partly funded by an ASC research budget and partly by the Library and Documentation Department, and private funding allowed me to supplement my (research) collection of Swahili and Arabic pamphlets. In a four-week period I travelled from the Tanzanian island of Zanzibar to Dar es Salaam and via Tanga to the Kenyan capital Nairobi. The idea behind this itinerary was threefold. Firstly, I wanted to buy texts: academic books and journal collections on Tanzania and Kenya as well as Islamic print materials for my own collection. Visits to universities, bookshops and the International Book Fair in Nairobi were instrumental in achieving this goal. Secondly, I wanted to focus more on the context of these texts and to use the visit to sketch the outline of a private research project for the next three or four years focusing on the politics of Islamic print media. Travelling in two countries and working on two different collections in three different languages offered me the opportunity to look for contexts, synergy, comparisons and connections. Why do people publish ? And how can libraries continue to give access not only to texts but also to crucial contextual (biographical, political, social) information that is so critical to understanding these texts? How do separate publishing circuits (academic English books and Swahili religious books) communicate with each other? I hoped to find some answers in interviews and informal conversations and discussions with people there. Finally, this trip was a great opportunity to expand my contacts and network. The conference visit would provide me with a useful starting point.
My contacts were quite diverse. On my very first day, I was struck by the strange choice of venue for a conference on Islamic civilization. The Islamic press often describes tourists as being 'half naked' (nusu uchi) although mathematically this is not completely correct: the percentage of uncovered flesh is, in most cases, more than 80%. The Italians in particular have a bad reputation in this respect, according to the Zanzibaris. The conference was held in a top Italian-owned resort where rooms cost from US$ 220 (single room) to US$ 6800 (bride suite) a night and minimally-clad tourists and long-robed bearded Omanis mix at lunch time. Each group remained in its own cultural bubble while I was there and both seemed happily unaware of the other's existence.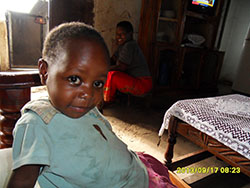 I had lots of friendly contact with people I had known for a long time and we were happy that our paths had crossed once again. There were strategic contacts as well. Someone told me: 'I want to be your friend but I warn you it is a friendship with an intention'. I was keen to reassure him that I too had an agenda, not a hidden one but nevertheless an agenda. There were also unfriendly contacts between 'foreigners' and 'locals' while I was on Zanzibar, with another acid attack, this time directed at a priest. And the terrorist attack on the Westgate Mall happened the day I arrived in Nairobi. The secret police interrogated me twice as a suspect (being an alien, hiding in the 'wrong' budget hotel and surreptitiously entering the country by bus and not by plane). A bag full of Islamic print propaganda with titles such as 'Islam is not a terrorist religion' clearly did not help my cause very much.
On earlier acquisition trips I had usually downplayed my role to one of neutral mediator who was just channelling texts, books and other (printed) material to the North, where I would provide scholars and students with access to all this material. The reality could not have been more different than this perceived neutrality. In contact with writers, publishers, bookshop owners and representatives of the state, I was, more frequently than ever before, questioned about the act of collecting itself. Not only the 'what' and 'why' behind it but also questions concerning access were regularly thrown at me. A young man in a Dar es Salaam bookshop asked me what use it would be to him if I shipped all the books I was buying to the Netherlands. How was this going to serve the local people in Tanzania? How could they then access them? I didn't have the courage to give him the only true answer: 'you won't be able to'.
Zanzibar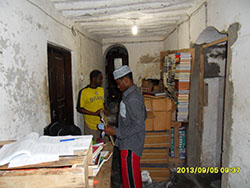 After a smooth change of plane in Nairobi where the airport had apparently quickly improvised various new procedures after the devastating fire in the arrivals hall less than a month earlier, I arrived at Zanzibar airport. The first thing I saw was a stranded Ethiopian aircraft a day after its collision with an Omani plane. 'Karibu Zanzibar' the taxi driver remarked cynically. I continued to the conference centre in Nungwi some 55 km from the airport along a road that offered a vivid example of how communities can be excluded from development projects. The designers of the new tarmac road had probably had an airport runway in mind and clearly had not taken into account the vast numbers of children and villagers who would be walking along it at night, oblivious to the reckless drivers in speeding cars also using the road. To stop the daily carnage of traffic victims, every village had devised its own speed barriers. Some of the lower-slung taxis could not even get over these sleeping policemen unless they negotiated them from a wide angle, which involved using the whole width of the road. This clearly added to the general chaos.
Contact with the Turkish organizers of the conference had been difficult so I was in for a lot of surprises. IRCICA, the Istanbul-based Centre for Islamic History, Art and Culture started its activities in 1980 as the first subsidiary organ of the Organisation of the Islamic Conference (OIC) focusing on culture. They regularly publish the proceedings of their biannual conferences in English and French. The relevant issues are in the ASC library:
When we arrived, it was clear that this was to be not a Turkish but rather an Omani PR event. The National Records & Archives Authority of the Sultanate of Oman was much more prominently visible than the IRCICA. The annual publication of the Omani Ministry of Information as well as city maps and other touristic information were also available (all in Arabic). Also in Arabic was the work of the very active Ibadhi scholar Khalfan Tiwani. Large piles of heavy (950 gram) full-colour books on fasting and prayer were available (all free of charge). Apparently his more polemic work, which I bought elsewhere, did not fit the Omani agenda.
During the excursions , Oman's heritage was stressed over and over again. The House of Wonders and the Mtoni Palace were a few of the highlights. This was just part of a broader two-week Omani cultural and religious invasion that included the Grand Mufti of the Sultanate al-Khalili (himself of Zanzibar origin) who was visiting Pemba and opening a huge mosque, exhibitions of manuscripts touring the country and a College of Health Science was opened in Dar es Salaam. Pledges of financial support appeared in the press. The important link between Zanzibar and Oman (Zanzibar was once the capital of the Oman Sultanate), especially in the religious and cultural fields, is not reflected in our ASC library collection. The only two books we have from Oman are both translations.
About 60 contributors (who each received US$ 1000) presented papers on a variety of topics. About 25% of the contributions were from Sub-Saharan Africa and the other papers were mainly presented by Omani speakers. There was not a single American contributor and only three presenters were from Old World Europe.
For me, the most interesting contribution was by Ridder Samson who is researching private collections of Swahili manuscripts written in Arabic script. One of these is the tafsir by Ali Hemed al-Buhry, an influential understudied scholar from Tanga. I also had conversations with Philip Sadgrove, Abdul Sheriff and Marloes Hamelink who is working on media consumption and the influence on gender and the religious identity of Muslim women in Zanzibar. I also met up with former ASC fellow Sofiane Bouhdiba.
Dar es Salaam and Tanga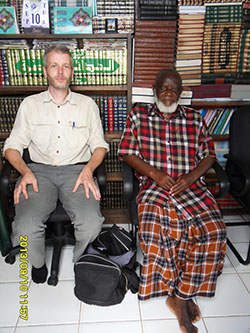 The second and third weeks were spent in a hectic cauldron with friends in Tanga and Dar es Salaam, following up on social obligations, and 'compulsory' inspection tours of social and economic investments. On one of these early morning visits to a remote suburban area ('the government is afraid to come here') where a friend of mine had started to build a house, we passed a group of women preparing breakfast. One of them asked: is the white man going to buy our land? It was, of course, a joke but also had a ring of truth to it as the contributions to the Land Rights for Sustainable Peace conference in Dar es Salaam held that same week had shown. Land justice is a real issue and touches the lives of ordinary people.
Most of my time was spent conducting interviews and making phone calls. At the university, I had a lunch appointment with a former classmate and now the director of the Kiswahili Institute, Mutembei, and was introduced to the prolific writer of history textbooks on Nyambari Nyangwine. I also had a very rewarding interview with blogger, author and preacher Daniel Mwankemwa and finally met two important Qur'an translators Ali Mayunga and Said Moosa al-Kindy. Interviews with journalists and editors from the Islamic newspapers al-Huda, an-Nuur, Kisiwa and Nasaha yielded new insights. And I spent all my remaining hours in the National Library photographing dozens of newspapers.
Nairobi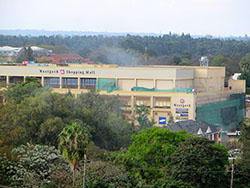 My period in Nairobi was dominated by the al-shabab [in Swahili often nicknamed Bila Sababu: without a cause] attack on the Westgate Mall. The Islamic press responded in two ways. One was the 'not in our name' response (see the Friday bulletin). However other newspapers used pictorial 'evidence' to prove that it was all a Zionist hoax. (This was done for example by an-Nuur). Apart from being questioned by plain-clothes police officers, the only immediate effect for me personally was that there were hardly any other visitors at the Book Fair besides me and the 55 exhibitors. And local school teachers were prevented from bringing their classes to the fair which was located at about 300 meters from the burning mall.
The main event at the fair was the presentation of the Kenyatta Prize for Literature, which is the country's biggest literary award and is given every two years. There is KSh 150,000 prize money for the winners in the Adult English category and, as expected, Ole Kulet's Vanishing Herds won the prize. The novel is a love story tracing the journey of a couple, Norpisia and Kedoki, to Kedoki's birthplace and their pursuit of environmental conservation. The other two shortlisted books were Waithaka Waihenya's The Vendor that revolves around a newspaper vendor and his shifting fortunes as he fiercely tries to hold onto his independence and ideals, and Ngang'a Mbugua's Different Colours that tells the story of a young painter captivated by a waterfall in Banana County and a chance adventure that befalls him while there.
African fiction no longer needs Western platforms like Heinemann's African Writers Series. It has just as much appeal to an African audience when published by African publishers. A similar Africanizing trend (but much slower) is visible in other academic fields. For example, the original German version of Twaib's book The Legal Profession in Tanzania: Law and Practice is being published in Dar es Salaam
The rest of the week was spent at Eastleigh, an interesting suburb dominated by Somalis (Hirsi Ali once lived here) and at the library of the Jamia Mosque and other Islamic institutions. I had an inspiring conversation with Joseph Wandera who invited me to a workshop in Bayreuth last month for the kick-off of Halkano Abdi Wario's project 'Printing Knowledge, Informing Umma: Historical and Contextual Analysis of Kenya's Friday Bulletin' . It is precisely this kind of research into the politics of publishing and reading Islamic (print) media in their wider contexts that fascinates me.
Changing Texts, Contexts and Contacts
Texts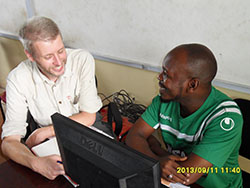 Looking back, I realize that print material as the only or even the most important bearer of information in African Studies is over. For good. Different media that used to exist independently are now merging into exciting new media with new audiences. Somji, the publisher behind al-Itrah, intends to add QR codes to his print books (which are naturally also published in digital formats) and these codes link to the live web radio led by his son. His ambition is to turn IBN-Tv into the Al-Jazeera of East Africa. But in the fields of religion, the print medium remains important because there is not yet an income-generating model for digital self-publishing for most African authors. I added 340 new Swahili books and pamphlets to my collection this autumn, making a total of about 1850 and, for the first time, I bought 90 Swahili DVDs in an attempt to get an impression of the oral religious discourse. Many authors are now regularly using more than one medium to put cross their message.
I purchased 250 print books, 130 journal issues and some 10 English-language documentaries for the ASC library. The Library of Congress has an important African branch in Naiobi so it is not surprising the percentage of books the ASC catalogued for the first time in WorldCat was fewer than normal. Previous acquisitions trips have usually resulted in about 25-30% globally unique catalogue records and this time it was 'only' 20%. This nevertheless means that in these 50+ cases, our cataloguers were faster than 10,000 other libraries! Based on our experiences over the last decade, it is likely that the ASC library will remain the only public place where several of these titles can be accessed. The ASC library appears to be managing to remain a global player in collecting these old-fashioned print media, even with its very modest budget.
Contexts
The shift in global and local centres of power is obvious when looking at publishing. An important book, like the memoirs of the former Tanzanian minister George Kahama that was published in Beijjing in 2010 and officially launched in the presence of all the living (ex)-presidents of Tanzania as well as the late Nyerere's wife, has been missed by all libraries except the ASC. South-South publishing activities seem to fall under the radar of most European and North American libraries. In the field of Islamic religious publishing, it might surprise some people that that Turkish and Omani publications now almost outnumber the number of Saudi books and pamphlets being published.
A Swahili-only print discourse has emerged for the first time as is illustrated by a series published by the Islamic Sites Conservation dealing mainly with historical subjects. Almost all their references in the bibliography are in Swahili. The substantial number of Arabic sources now available in Swahili also offers the opportunity for non-Muslims to publish extensively on Islamic subjects based on Swahili-only sources. And that is what they are doing. There is a threat that this context of shifting power and language use will make the ASC collection, at least for Tanzania, less representative than it used to be.
Contacts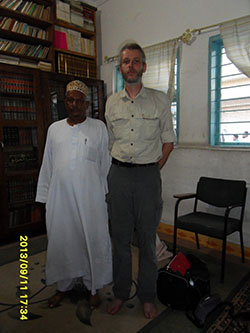 Anthropologists used to talk to 'informants' a long time ago but nowadays they deal on a much more equal footing with people with their own agendas. For example, the current spiritual leader of the Shadhuliyya Brotherhood, Mahmoud Nurudin Hussein, presented me with one of his father's publications that I had been looking for for many years. In return, I provided him with my analysis of a small polemic pamphlet that was also written by his father. Similarly, I was able to give the Qur'an translator Ali Mayunga a photo of his arrest by the police in 1998, and in return he very generously gave me a book I really wanted. It dated from the period before his conversion to Shi'ism and contained ideas he no longer upholds. As a direct result of my contacts, the ASC library can now provide access to many unpublished works by the historian Mohamed Said. And he himself is now using these links to inform friends and contacts.
Libraries are in the middle of a transformative process in which collections will remain important but not as bounded entities. We need to – and will – build more flexible library systems to facilitate access to multiple forms of knowledge and media, not necessarily stored in a building in Leiden. Even considering the limitations in budgets, collection profile and languages, collecting global resources from Africa with due attention to contexts, contacts and reciprocity remains a worthwhile way of contributing to a much wider web of essential knowledge. I am very aware that this kind of acquisitions trip goes against a lot of trends in the library world but I am also convinced that it is one way (among many) we should develop our mission as a truly global Leiden institute that 'aims to promote a better understanding and insight into historical, current and future social developments in Sub-Saharan Africa'. And one day, I hope to meet that guy in the Dar es Salaam bookshop who asked me if he could access the books about his world that he had sold me and I will tell him emphatically: 'yes, you can!'.
Posted on 18 December 2013, last modified on 14 January 2014