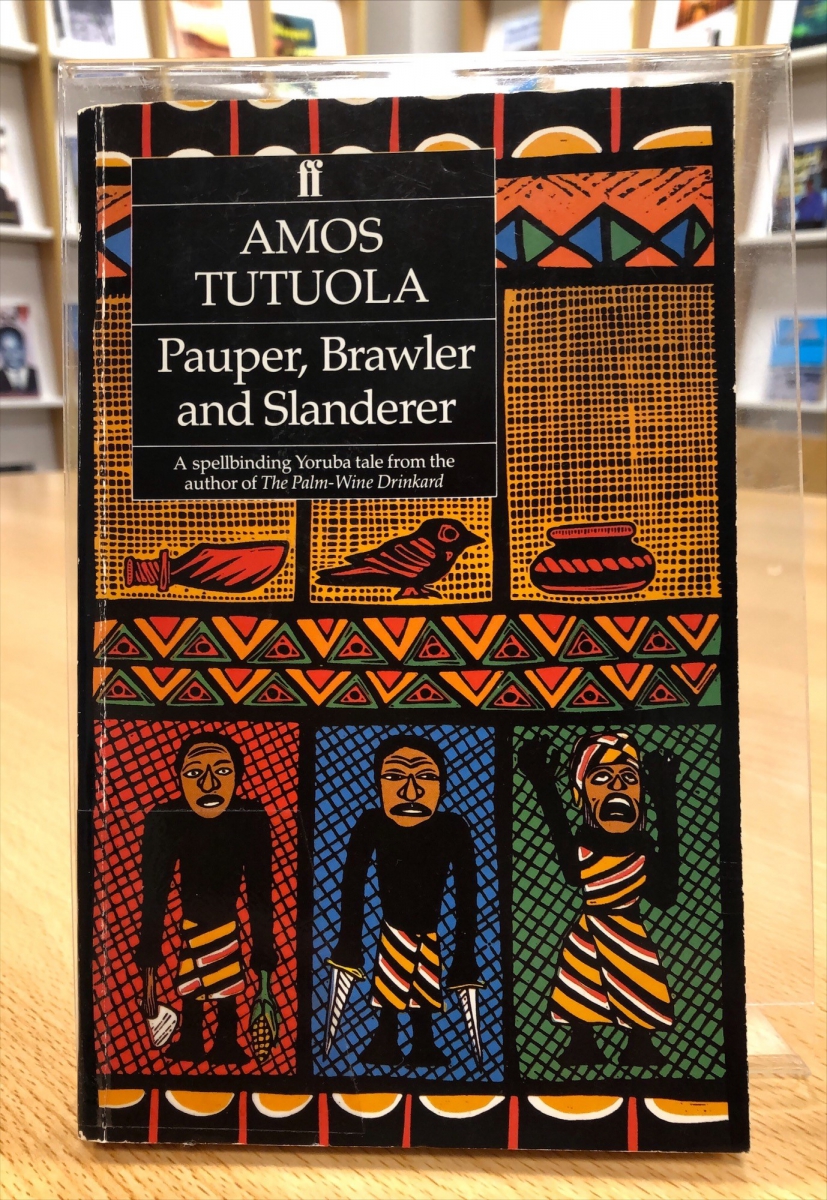 On 20 June 1920, Nigerian writer Amos Tutuola was born in Abeokuta. His books are partly based on Yoruba folk-tales.
When Amos was seven years old, he became a servant for F. O. Monu, an Igbo man, who sent him to the Salvation Army primary school in lieu of wages. At age of 12, he attended the Anglican Central School in Abeokuta. When his father died in 1939, Tutuola left school to train as a blacksmith, the trade he practised from 1942 to 1945 for the Royal Air Force in Nigeria during WWII. He subsequently tried a number of other vocations, including selling bread and acting as messenger for the Nigerian Department of Labour. In 1946, Tutuola completed his first full-length book, 'The Palm-Wine Drinkard', within a few days.
Tutuola wrote his novels in English. In 1956, after he had written his first three books and become internationally famous, he joined the Nigerian Broadcasting Corporation in Ibadan, Western Nigeria as a storekeeper. Tutuola also became one of the founders of the Mbari Club, the writers' and publishers' organization. In 1979, he held a visiting research fellowship at the University of Ife (now Obafemi Awolowo University) at Ile-Ife, Nigeria, and in 1983, he was an associate of the International Writing Program at the University of Iowa. In retirement, he divided his time between Ibadan and Ago-Odo.
Tutuola died at the age of 76 on 8 June 1997 in Ibadan
Many of his papers, letters, and holographic manuscripts have been collected at the Harry Ransom Humanities Research Center at the University of Texas, Austin.
(Source: Wikipedia)
Selected publications
Publications by Amos Tutuola
The village witch doctor & other stories / Amos Tutuola. - London [etc.] : Faber and Faber, 1990
Pauper, brawler and slanderer / Amos Tutuola. - London [etc.] : Faber and Faber, 1987
Ajaiyi and his inherited poverty / Amos Tutuola. - London [etc.] : Faber and Faber, [1967]
Feather woman of the jungle / Amos Tutuola. - London [etc.] : Faber and Faber, 1962
The palm-wine drinkard and his dead palm-wine tapster in the Deads' town / Amos Tutuola. - London [etc.] : Faber and Faber, 1962
Publications on Amos Tutuola and his work
A (wo)man for all seasons : Amos Tutuola and the gendering of peace in Africa / Heidi Hudson. - Uppsala : The Nordic Africa Institute, 2019
e-book, film
Drinking from the cosmic gourd : how Amos Tutuola can change our minds / Francis B. Nyamnjoh. - Mankon : Langaa Research & Publishing CIG, [2017]
Amos Tutuola revisited / Oyekan Owomoyela. - New York : Twayne Publishers, cop. 1999
Critical perspectives on Amos Tutuola / Bernth Lindfors. - London [etc.] : Heinemann, 1980
Amos Tutuola: The Palm-Wine Drinkard / Dr. Masood Raja, 10 July 2020
20th-century Nigerian novelists via DBpedia and Wikidata
Posted on 20 June 2022, last modified on 20 June 2022