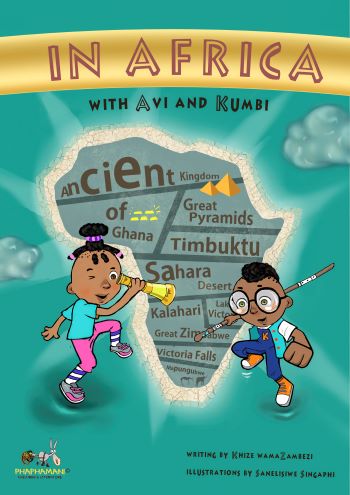 When South African historian Nomalanga Mkhize was searching for a book on the history of Africa for her young daughter, she soon discovered that a suitable copy was not easy to come by. Disappointed with the lack of material to teach African children about the history of their own continent from an African perspective, she decided to write a children's book herself. The result, In Africa with Avi and Kumbi, written under the author's pen name Khize wamaZambezi, is the subject of this month's ASCL Library Highlight.
A history of Africa in 34 pages
In Africa with Avi and Kumbi is a fully illustrated adventure book that covers the history of Africa from the first humans, who left their marks in rock art, to important figures during the period of independence. The book has 34 pages, each focusing on an important landmark in the continent's rich past. The book's protagonists Avi and Kumbi guide young readers from past to present.
In attempting to portray Africa from an African perspective in the best possible way, the author and illustrators paid a lot of attention to the drawing of the protagonists, the effect of the illustrations and the look and feel of its pages. But, as the author mentions in several interviews, the most difficult part was selecting the subjects to be included on the limited number of pages. In interviews, the author explains that she has tried to take the continent as the focal point for its own history, while at the same time making clear that there is a world in which Africa operates and that the world operates in Africa. Watch an interview with the writer from SABC Digital News.
Decolonizing children's literature and education
The idea for this book can be placed in a wider trend of attention for the decolonization of children's literature in Southern Africa. There is a growing number of initiatives to publish children's books with an African perspective, whether or not in an African indigenous language. A South African example is the Puku Children's Literature Foundation, an organization that aims to ensure children's access to quality, culturally relevant literature in all South African languages. One of its initiatives is the creation of an encyclopedia (Pukupedia) that reviews children's literature and promotes the buying and reading of books that affirm the African child. In the words of Puku's Executive Director, writer and activist Elinor Sisulu:
"Books should act as both mirrors and windows: mirrors in which children can see and know themselves and windows through which they learn about the rest of the world beyond their immediate environment."
An influential publication in the field of decolonizing children's education, Dear Upright African: A call to action for taking history into our own hands by Donald Molosi, has recently been added to the ASCL Library collection. Watch the author's TedX talk to get an idea of his views.
Relevant links
Germa Seuren
Posted on 16 September 2019, last modified on 9 January 2020