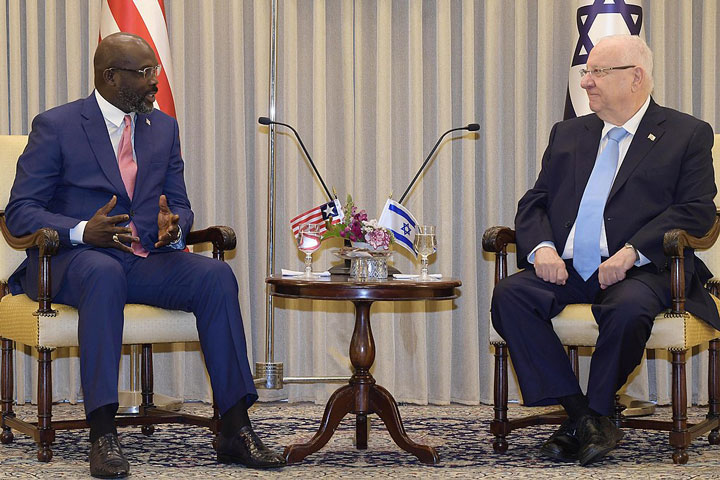 A relatively unknown - certainly under-reported - feature in Africa's international relations is the slow return of Israel to the continent, re-establishing diplomatic relations and cooperation programs. It is news that goes against the reigning narrative in the Western media, always sliding into a reflex of anti-Israel attitudes, often not hindered by any serious background knowledge of that country or of its aims or role in Africa.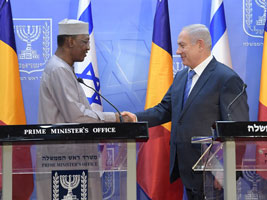 Warming relations
On 25 November 2018 President Idriss Déby of Muslim-majority Chad visited Israel at the invitation of Israel's Prime Minister Benjamin Netanyahu. Déby expressed the wish to restore diplomatic relations. On Netanyahu's return visit to N'Djamena on 20 January this year, cooperation deals were signed between the two countries. Of course, critical pundits immediately commented that 'Israel establishes relations with tyrants and authoritarian leaders'. There is a danger here that this is indeed the case: see the warming relations with other dubious dictators, like those of Togo and Rwanda (where on 1 April 2019 Israel opened its 11th embassy in Africa). But such criticism, often coming from the EU, might sound hypocritical when the EU has done the same over decades and currently is coaxing a prime authoritarian country like Iran as never before. On 25 March this year Netanyahu also met in Jerusalem with democratically elected Liberian President George Weah – not a tyrant by any measure - in Jerusalem to discuss upgrading bilateral relations.
Contacts with the Muslim world
Growing contacts between Israel and the (Sunni) Muslim world helped to take away Africa's hesitation for reconnecting with Israel. On 25-26 October 2018, PM Netanyahu had met Oman's leader Sultan Qaboos in a surprise visit to Muscat, Oman, and there is evidence of even Saudi Arabia and the UAE contacting and liaising more and more with Israel. Bahrein also has expressed support for links with Israel, even condoning Israeli military action. This may all be short-term expediency from Sunni Arab countries (regarding their conflictuous relation with Shi'a Iran), but nevertheless: signs of 'normalization'.
Netanyahu's trips to Africa
In 2016 Netanyahu became the first Israeli premier to visit Africa in nearly three decades, with a trip to Uganda, Ethiopia, Kenya and Rwanda. In July that same year Guinea renewed its diplomatic relations with Israel. In 2017 Netanyahu attended a meeting of ECOWAS heads of state in in Liberia. While with some African countries relations were never interrupted despite the diplomatic break after the 1973 October War, contacts behind the scenes are now progressing with various other countries (e.g., Senegal, Mali, Kenya, Ivory Coast).
Israel's hands-on attitude
The African turn towards Israel may be explained by a number of reasons:
a) the notable Israeli record in economic development - agronomical innovation, water technology, ICT advances, cyber-security, and military hardware production, which can offer Africa opportunities;
b) Israel's view that Africa is globally in many respects 'the political and economic future';
c) the perceived Israeli hands-on, open, non-patronizing attitude towards international cooperation and development issues; and
d) an emerging impatience among African leaders on the perceived lack of progress on political issues like the Israel-Palestinian conflict, due mainly to ever nay-saying or ambivalent Palestinian leadership and an Israeli lack of imagination. Be that as it may, this issue is no longer seen as all-dominant aspect in Africa's relations with the Arab-Muslim world, also in view of the disappointing aid and support African countries have received from the Arab world in return. (Even the December 2018 vote in the UN General Assembly on Jerusalem's status, after being recognized as the capital of Israel by US president Trump, showed mixed responses by African states.)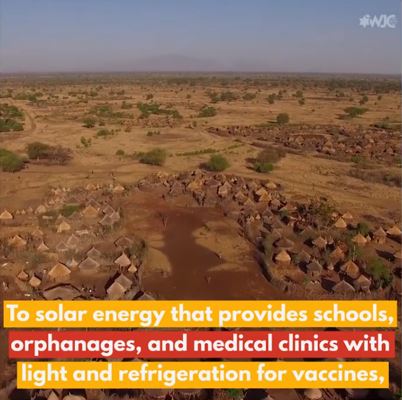 Assistance, investments, training
Regarding the first reason, Israel's developmental successes: these have inspired a new flow of field projects in Africa, mostly small-scale but providing concrete and often context-sensitive assistance in the agricultural, educational, humanitarian, and medical domains. Other activities are in the field of economic investments, arms sales and military/security training, which of course can be seen as an instrument of Israel's foreign policy. But many activities were driven by a will to positively engage, as evident in many development projects and private NGOs. Israel has had an Agency for International Development Cooperation since 1958 (acronym MASHAV), and in recent years also set up rapid-response emergency teams that assist countries in Africa and across the world in times of a natural calamity, and this assistance - despite its limited scale – is appreciated. Even some UN representatives underscored Israel's potential role in development cooperation with Africa.
No 'imperialist' agenda
In addition, while advancing its business interests, Israel has no 'imperialist' agenda in Africa, like the USA, Russia, China, Iran or Turkey: the country is too small-scale to wield really substantial political-economic influence. Many African leaders know this and would have accepted some form of relations with Israel earlier, were it not for the pressure of the Arab-Muslim bloc of countries in the UN and other international bodies. But now that even Saudi Arabia, Bahrein and the UAE are developing regular behind-the-scenes contacts with Israel, many African countries do not see why they cannot follow suit. Obviously, a last major contributing factor is that of the mounting complications with Iran - which has a rabid anti-Israel agenda and is unreliable and opportunistic in its support and links to African countries.
Thus, many African countries, behind the official but worn-out rhetoric of 'support for Palestinian rights', are becoming relatively indifferent to pressure not to link with Israel. For instance, at least two African Muslim-majority countries next to Chad ‒ Guinea and Senegal ‒ do no longer automatically vote with the Arab-Muslim bloc in the UN and engage with Israel. The Arab-Muslim bloc, however, is still targeting this cooperation, as evident when an Israel-Africa summit supposed to take place in Togo in October 2017, was cancelled due to pressure of some Arab countries.
Rebuilding relations
Nevertheless, it seems that the slow return of Israel to Africa will continue, based on pragmatism and patience. It is issue-directed, focusing on agricultural programs, security cooperation, technical development assistance and trade relations. It will be interesting to follow how this process of rebuilding relations proceeds. Rebuilding, because in the 1950s and 1960s Israel was popular in Africa due to its agricultural aid programmes, the example it gave in building a country with few means and natural resources, in its relative success in absorbing a huge refugee population, in forging national unity from the remains of a battered and persecuted people in the wake of WWII, and its emergence from a 'colonial' British Mandate. The wars with Arab states and the festering problem with the Palestinians did not prevent the idea that Israel may be a potential useful partner in Africa in the above-mentioned fields.
African refugees in Israel
But there are limits to the process: some African countries, like Nigeria, Benin, South Africa, Niger and Morocco – remain rather opposed to normalization, even trying to halt it. In 2016 for example, Nigerian president Buhari blocked Israel's presence at the ECOWAS summit. The policies of African countries remain unpredictable, often led by expediency. Problems to address in this relationship between Africa and Israel are recognized on both sides – several issues will always be brought up, inevitably the 'Palestinian issue', although often nominally, and also the thorny problem of the ca. 40,000 African refugees in Israel, who are not treated well and cannot integrate or stay except when they disappear into illegality. It is hereby interesting to see that the EU,[1] though having similarly unsolvable problems and attitudes, regularly sees it fit to patronizingly criticize Israel in its treatment of African refugees.
South Africa's powerful voice
In Africa, some countries, notably South Africa, have powerful voices that want to keep distance from Israel. For example, the ruling ANC decided on 5 April 2019 to downgrade the embassy in Tel Aviv, reducing economic and trade ties. Israel then announced it would close its embassy in Pretoria. In addition, there are regular pleas in South Africa for 'boycotting' Israel. Rather preposterous debates were held among academics and students to cut all academic exchange links with Israeli universities. This echoes familiar moves from the USA, where the radical anti-Israel Left issues similar calls and blights university life with a politics of hate in a mirror image of the radical Right and of Islamist activists.
Mutual solidarity and interest
But apart from South Africa, where everything is politicized to an absurd degree, such calls are not often made elsewhere in Africa. Despite regular criticism of its policies, engagement with Israel is preferred by a growing number of African countries. This politics of pragmatic relations will therefore remain important, over and above the ideological, morally dubious boycott campaigns, which might also prove to be counter-productive.
Within Israel there are also critical voices, not on the rapprochement between Israel and Africa in itself, but on its nature. For instance, the reputed Africanist academic and politician Naomi Chazan has regular criticism on the opportunistic way the Netanyahu government has pursued its Africa policy in liaising happily with authoritarian regimes and doing too many arms sales. Ultimately, she suggested, the test of success of shaping lasting Israeli-African relationships lies in a principled policy of mutual solidarity and interest, and in outlasting the tenure of particular leaders and the longevity of specific regimes.
[1] For more on the dubious attitude of Europe versus Israel, see Robin Shepherd, A State beyond the Pale: Europe's Problem with Israel (London 2009).
Photos:
Top photo: The President of Israel, Reuven Rivlin, at a working meeting with the President of Liberia, George Mena Weah, who visited Israel. Thursday 28 February 2019. Copyright Amos Ben Gershom / GPO Israel [CC BY-SA 3.0 (https://creativecommons.org/licenses/by-sa/3.0)]
Middle photo: Israel Prime Minister Benjamin Netanyahu with Chad President Idriss Déby in Netanyahu's Office in Jerusalem, 25 November 2018. Copyright GPO/Amos Ben-Gershom
Lower photo: screenshot from a promotion film from the Israeli NGO 'Innovation: Africa'.
This post has been written for the ASCL Africanist Blog. Would you like to stay updated on new blog posts? Subscribe here! Would you like to comment? Please do! The ASCL reserves the right to edit, shorten or reject submitted comments.
Israel
Chad
Rwanda
Togo
Liberia
South Africa
Posted on 4 July 2019, last modified on 5 July 2019