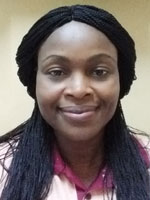 Ezinwanyi Adam holds an MA Degree English (Literature emphasis) from the University of Ibadan (2005 - 2007) and a PhD English (African and Comparative Literature) from Babcock University (2010 - 2013). She was a Resident Research Fellow at the West African Research Center (WARC), Fann Residence, Dakar, Senegal in 2016. She has won many grants and fellowships including Cadbury Fellowship of the University of Birmingham (2015) and 2015/2016 ACLS-AHP Postdoctoral Fellowship of the American Council of Learned Societies, New York. Dr. Adam's passion for excellence and commitment to academic scholarship are quite reflective and remarkably portrayed in her qualitative researches in comparative and African literature, gender and women's studies, postcolonial and development studies.
Currently, she works as a Lecturer I at the Department of Languages and Literary Studies, Babcock University. She teaches courses in African literature, comparative literature, literature and popular culture including the Media, Literary theory and Criticism, Gender and African Studies.
Recent publications (*key publication):
* "Money makes Wealth: Representing the Igbo Perceptions on Wealth, the Wealthy and Livelihoods in Achebe's Things Fall Apart" in Igbo Studies Review. No. 5, (2017), pp. 75 - 87.
"Thematic Concerns and the Womanist Ideas in Tsitsi Dangarembga's Nervous Condition", Co-authored by Yewande Osogbiye in EBSU Journal of Social Sciences and Humanities, Vol. 8 No. 1, April 2018, pp.1-8.
"The Dialectics of Betrayal in Lola Shoneyin's The Secret Lives of Baba Segi's Wives" in Ebonyi Journal of Language and Literary Studies, Vol.1, No 2:70 - 76 (2018).
"The Unconscious and Tripartite Psyche: A Study of William Golding's Lord of the Flies", Co-authored with Abiola Kalejaiye in Beyond Babel, Issue 5, October 2018, pp. 53 - 65.
* "Poverty Eradication for Sustainable Growth in Africa: Insights from Ben Okri's In Arcadia" in Education, Creativity and Economic Empowerment. Eds. Toyin Falola and Jamaine Abidogun. Palgrave Macmillan, USA, 2013.
"A Literary Study of Marriage Songs of Ngwa Igbo of Eastern Nigeria" in Fieldwork in Nigerian Oral Literature. Eds. Mobolanle Sotunsa and Akinloye Ojo. Write Right Academic Publishing, Ilishan-Remo, 2014.
"The Beggars can do it, Why not the Able-bodied? Lessons from Sow Fall's The Beggars' Strike," in Studies in the African Human Condition and Development Issues in the Post-Colonial Era. Eds. Prof. F.B.O. Akporobaro, Prof. Wale Osisanwo and Dr. A. A. Adesegun. Princeton and Associates Publishing Co. Ltd., Lagos, 2015.
"Teaching Nigerian Youths the Conflicts and Mixtures of Modern Life through the Reading of No Sense of Limits," in Communication, Society and the Nigerian Child: Issues and Emerging Trends in the 21st Century. Ed. Des Wilson. African Council for Communication Education (ACCE), 2015, pp. 53 - 60.
"A Representation of the Chaotic and Mixtures of Modern Life in Araceli Aipoh's No Sense of Limits" in Grammar Applied Linguistics and Society: A Festschrift for Wale Osisanwo. Eds. Akin Odebunmi, Ayo Osisanwo, Helen Bodunde and Stella Ekpe. Ile-Ife: Awolowo University Press. 2016, pp. 729 - 742.
"Sociopolitical Realities and Techniques in Wale Okediran's Tenants of the House" in Africa and its Diaspora: History, Identities and Economy. Ed. Samuel Ojo Oloruntoba. Austin, Texas: Pan-African University Press; 2017, pp. 203 - 212.
* "Narrating the woes of women in wartime: Examples from Akachi Adimora-Ezeigbo's Roses and Bullets and Chimamanda Ngozi Adichie's Half of a Yellow Sun." Co-authored with Chinenye M. Egboh in Gender and Development in Africa and its Diaspora. Eds. Akinloye Ojo, Ibigbolade S. Aderibigbe and Felisters Jepchirchir Kiprono. Routledge African Studies, Routledge, London and New York: Taylor and Francis Group, 2019, pp. 31-48.
Affiliation:
Babcock University, Nigeria