Sara Kleine Vennekate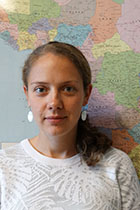 Sara is working as a junior researcher for the M-Health Project. Until the end of January 2019, she will conduct research on mobile health initiatives in Africa and work on proposals to further evolve a pilot project in Chad.

The aim of the M-Health Project is to develop a solution for the organization of health care in remote areas of Africa. This study builds on the Dawa mobile health project developed for the treatment of Schistosomiasis in Chad, based on an M-health system consisting of SMS and a mobile laboratory. The main research problem tackled is how and under what conditions m-health solutions can contribute to improved and more effective prevention, diagnostics and treatment of Schistosomiasis and related diseases among the population in Southern Chad in a sustainable way. The project focuses on Chad but possibilities to link to other countries might be explored.
Sara holds a Master's Degree in International Development Studies from the University of Amsterdam and has worked with Doctors without Borders (Médecins Sans Frontières) as Health Promotion Activity Manager in South Kivu, DRC, before her assignment at the African Studies Centre Leiden.