Merel van 't Wout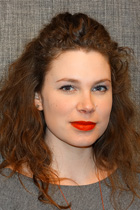 As a PhD candidate, Merel van 't Wout explores a sense of belonging and the construction of identities among so-called "indisciplined" youth in Tamale, the capital of the Northern Region of Ghana. Her work is part of the larger research project Society and Change in Northern Ghana: Dagomba, Gonja, and the Regional Perspective on Ghanaian History led by dr M.R. Doortmont.
Previously, Merel completed her bachelor in Culture and Languages at the University of Utrecht (Cum Laude) and her research master in Modern History and International Relations at the University of Groningen (Cum Laude).
Merel's multiple fieldwork visits to Northern Ghana between 2011 and 2014 resulted in a master thesis – entitled Entrepreneurs by the Grace of God. Life and work of seamstresses in Bolgatanga, Ghana, for which she received the Africa Thesis Award 2015. This thesis explored the interplay between the lifeworlds of young seamstresses in Northern Ghana, the NGOs that became involved in providing training to these girls and the discourse that celebrates female entrepreneurship as an empowering development strategy. Through an ethnographic study of the lives, dreams and ambitions of the women purported to become entrepreneurs, this thesis criticised the weak conceptualisation of entrepreneurship in development discourse and the neglect of the socio-economic context in which "entrepreneurial" activities take place.
Prior to her PhD appointment, Merel worked as a research assistant at the African Studies Centre Leiden, was involved in the development and evaluation of life- and entrepreneurial skills training programmes in Bolgatanga (Ghana), gave lectures and facilitated working groups for summer and executive courses on female entrepreneurship as a development strategy.
Currently, Merel van 't Wout is a visiting PhD fellow at the Center of African Studies (CAS) at the University of Copenhagen.
Keywords: belonging, youth culture, narrativity, self-positioning, ethnography, Northern Ghana, West Africa.
Merel's LinkedIn profile
M.L.
(Merel)
van 't
Wout
+31 71 527 1940 (office) and +31 (6) 26 24 86 38 (cell)