Exposition par Sapin: MBOKA'SIKA. La vision d'art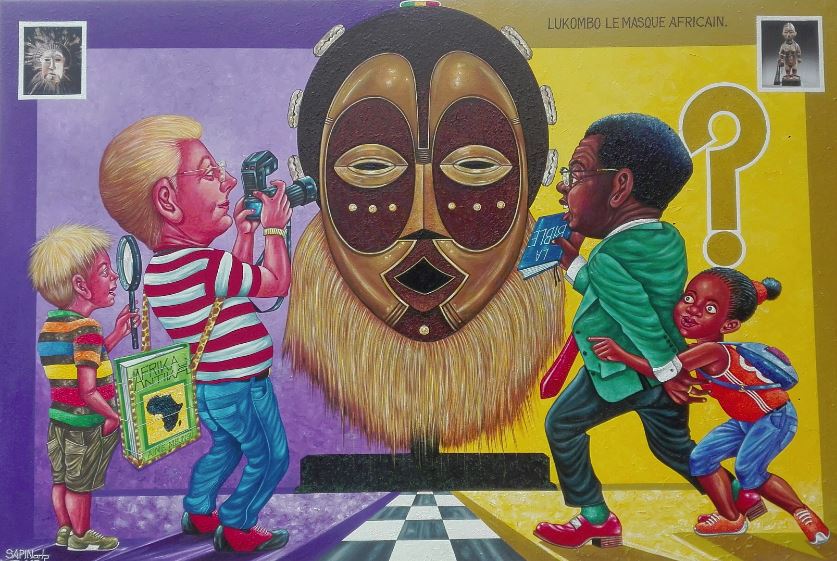 MBOKA'SIKA is the first solo exhibition in The Netherlands by the Congolese painter SAPIN MAKENGELE, alias SAPINART. The opening took place on 9 April. Read Catherina Wilson's speech 'Art is knowledge'.
Born in Kinshasa in the 1980s, Sapin is a self-taught artist. As a young boy, he used to draw everywhere: in sand, on walls, on paper, on doors and gates; with chalk, pencil, pen, or simply with the handle of the type of palm broom that you will find in every Kinois household.
In 1995, unable to attend art school, Sapin began to paint and draw advertisements on the walls of different small businesses in his neighbourhood: pharmacies, shops, bars, etc.
In 2000, he graduated as an apprentice electrician from secondary school. One year down the road, he dropped electricity and decided to dedicate himself fully to his art. He joined the atelier of one of the masters of Congolese popular painting, Cheri Cherin, where Sapin learned the technique of oil on canvas.
Encouraged by Cheri Cherin, Sapin embarked on an artistic career, following in the footsteps of world-renowned Congolese painters such as Moke, Cherin Samba, Pierre Bodo, Shula and others.
In 2004, Sapin participated in his very first (collective) exhibition organized by the Centre Wallonie Bruxelles of Kinshasa. This exhibition established Sapin in the Congolese art scene.
Sapin enjoys painting in public. He used to put his easel in front of his shack. He would often be surrounded by neighbours, passers-by, friends and family, and especially, his first son Varsovie Makengele (now 15 years old). In this inspiring environment, Sapin's themes and style became more solid, opening the doors to the renowned DAK'ART Biennale for Contemporary Art in Senegal. Sapin was selected, along with five other Congolese artists, to represent his country at its seventh edition in 2006. Subsequently, Sapin took part in various exhibitions and his art started travelling around the world: Congo-Brazzaville, France, Belgium, Canada, Austria, Germany, USA, The Netherlands and Chad.
An inquisitive and curious mind, the artist met and started working with different historians and anthropologists. In 2010, he participated, as a painter, in the shooting of 'Les enfants de Lovanium' at the University of Kinshasa, a collaboration with the historian Pedro Monaville and the filmmaker Cecil Michel. Sapin is one of the lead characters in this documentary that deals with the student protests of the late sixties.
Inspired by this experience, painting performances and co-creation have become Sapin's trademark. In 2014, he worked together with Catherina Wilson on an episode of the history of Libenge; he held a week-long painting performance designed to capture the life story of one of the inhabitants of this forgotten town in the North Congo. Two years later, he co-created the detailed historical drawing 'CONGO 1960-1965' with two history students at Leiden University.
In 2015, Sapin left his hometown on a brief world tour, after which he decided to settle in The Netherlands, his adopted country. Will this new environment provide him with new sources of inspiration and new artistic visions? Will he be able to combine these with the images of his beloved Kinshasa? These are the questions at the heart of MBOKA'SIKA, une vision d'art.
Lire l'article 'Couleurs populaires', paru le 25 mars dans Jeune Afrique, sur la peinture congolaise dans lequel Sapin est mentionné comme élève de Chéri Chérin
The exhibition can be seen during office hours in the corridors on the third floor of the Pieter de la Court building. The paintings are for sale; prices range between € 30 and € 1.850.
Date, time and location
09 April 2018

to

01 July 2018
Posted on 9 March 2018, last modified on 1 May 2018