Benjamin Soares professor at University of Florida, Gainesville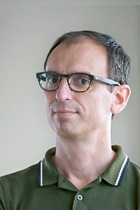 Benjamin Soares has accepted a professorship at the University of Florida in Gainesville, USA, as per 1 January. Benjamin Soares started working at the African Studies Centre in Leiden in 2003 and was Chair of the Researchers' Assembly in 2014-2015. Since 2015 he has also been a Professor (by special appointment) of the Anthropology of Islam in Africa and its Diaspora at the University of Amsterdam.
Benjamin Soares is a scholar of Islam and Muslim societies in Africa whose research focuses particularly on religious life from the early 20th century to the present. He has conducted research in Mali, Mauritania, Nigeria, Senegal, and Sudan. In recent work, he has looked at the connections between changing modalities of religious expression, different modes of belonging, and emergent social imaginaries in colonial and postcolonial West Africa. In addition to ongoing research on religion, the public sphere, and media, he is studying contemporary Muslim public intellectuals in Africa.
We wish Benjamin all the best of luck in his new position!
Posted on 20 December 2016, last modified on 16 February 2017