Inge Butter, Change and continuity within the Misseria Rouge's (inter)national networks: Connections and navigations amongst nomadic Arabs of the Batha, Chad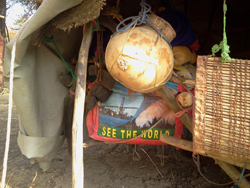 This PhD research focuses on a group of semi-sedentary Arab nomads from Central Chad and analyses the social and economic networks of which they are a part. Within this context the role of change and continuity vis-a-vis connectors (such as communication technologies) will be examined. The research takes place in Chad and the Central African Republic.
The MaGW-funded project is being supervised by Prof. Mirjam de Bruijn (ASC) and Prof. Maarten Mous (University of Leiden). The fieldwork has been made possible with the help of the Centre de Recherches en Anthropologie et Sciences Humaines (CRASH) located in N'Djamena. The project is closely connected to the research carried out by the Connecting in Times of Duress team.
External supervisors:
Maarten Mous (Leiden University)