Fieldwork Report: Inge Butter in Chad, CAR and Cameroon
In October 2012 I embarked on an Air France flight to Bangui where I would spend about a month, visiting the family members of the nomads I had met earlier that year in Central Chad. I really enjoyed being in Bangui, its location alone, in the bend of a fast-flowing river, overlooked by Congo Zaire (as everyone referred to it). It spoke to the imagination. Obviously it wasn't all as idyllic as it sometimes felt. Bangui is a rather small capital city. Souleymane (a Chadian PhD in the Connecting in Times of Duress research project) and I explored the city on foot and by taxi on numerous occasions. I even brought up the courage to borrow my host's car and drive around, alone. It wasn't the traffic I was worried about but the traffic police. I soon learned which roads to take to avoid their sporadic check points. They taught me the French word for 'fire extinguisher'…. It cost me 2000 cfa.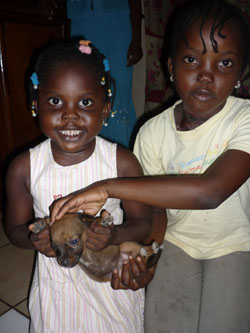 In Bangui I stayed with a lovely Chadian family consisting of two young children, their mother, a female cousin, a male cousin, a young girl who the mother had taken in, and the occasional family member visiting from Chad. I started out in the master bedroom, very luxurious and a welcoming place to find the occasionally needed seclusion. My last few nights with the family were spent sharing a bed with the elder daughter (of seven), making sure to wake her before I went to bed so as to avoid wet midnight surprises. I loved being a part of this family and think about them often. A few days after Mirjam (who had come on a supervisor visit), Souleymane and I crossed the border between CAR and Cameroon, the first rebel insurgence broke out.
The threat was very real; I could hear it in her voice when we spoke on the phone. She was scared. Scared for her children, for her young male cousin. Scared of what they might have to go through this time.
These are the realities I have come across in my fieldwork. Lovely stories of happiness, freedom, care, children learning, children having trouble with math, puppies being born, of being taken in as part of the family. At the same time the rumors of threats, violence, are always there—making it an unsure place. A place to be angry with for making you deal with uprisings and defeat every time.
She would say, I am not leaving this country. I am a Chadian but Bangui owes me. I have given it too much to leave. She will pay me back for all I have given her and lost.
It seems to be a mixture of frustration and despair, what I encountered amongst the Chadian population living in Bangui. Pride as well, for what they have built. It's a feeling of belonging to this 'foreign' country, with a parallel feeling of Chad being the one and only motherland.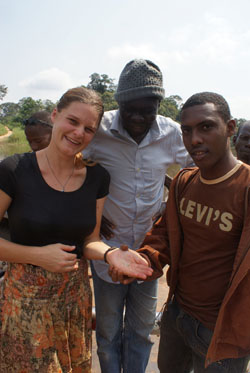 On the way from Bangui to Bertoua in Cameroon we purposefully drove passed the village where one of my main 'informants' was now living. We had spent three months together in her family's nomadic camp (ferikh) in Chad earlier in the year and she had driven back to N'Djamena with me on her way back to CAR. Here we discovered the world of diamonds. Literally. I even have a tiny piece of proof, given as a gift by a Mauritanian collector. We were able to visit a mining site, under escort by one soldier. There wasn't any more room in the car for the second soldier who had been assigned to us by the major of the town. The diamond mines attract people from all over and so once again, we met young Chadian men working as day laborers in the middle of the Central African Republic's jungle. Later, when the second and now for-real rebel coupe took place in Bangui, we were able to gain news of the route by which Bozizé's people had fled by calling the Chadians we had met. Yes, they had passed through here and demanded many things from the population. No, they had not come through here. Meaning there could only be one other way they could have gone. The road networks of CAR lack bridges over essential waterways here and there…
After having spent a few days in Bamenda and its surroundings I made my way back into Chad (mid-December) where I would stay for the further duration of my fieldwork (through to March). I would like to say that overall the fieldwork period was uneventful. Nonetheless, the regional 'noise' created the necessary rumors, tensions, unease and color-coded warnings from certain embassies. Chad's military role in Mali had its impact on the population, especially once those fallen in battle started coming home.
Life in the ferikh seemed to boil down to business as usual, except for the presence of an exponentially-grown herd of camels. When I last left them one of my informants had been the owner of five or six. Almost a year later he now possessed at least forty-five! In short, it has to do with an inheritance and business in CAR. Other than that, business as usual: many women pregnant and many more having delivered a new life to this world.
I greatly enjoyed my time in Bangui and Chad in general. I will never forget the generosity and hospitality I have received. Allah yafathum.
Inge Butter is a PhD student at the ASC and Leiden University. Her fieldwork takes place in Chad with a recently-explored link into CAR. This was her third field visit. After a period of writing she will carry out one more visit of one-two months at the beginning of 2014.
Posted on 31 May 2013, last modified on 31 May 2013