Current exhibition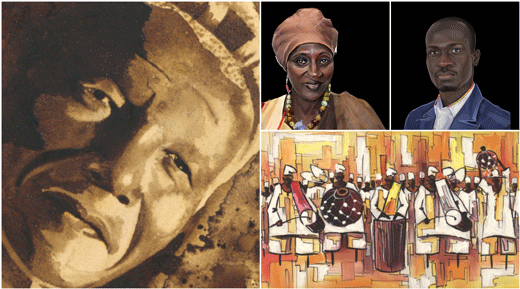 On the occasion of 2018 Nelson Mandela's centenary, the UMURAGE Foundation is pleased to present 'We Are The Legacy: Celebrating Nelson Mandela Centenary 2018'. The art exhibition features portraits of 100 African legacy makers who, in their own unique way, embody Nelson Mandela's three key principles – to free yourself, free others and serve every day – and 100 artworks from across the motherland.
Featured artists are:
Boureima Nabaloum, Hippolyte De la Volta, Idrissa Savadogo, Idrissa Guira and Romain W. Nikiema of Burkina Faso;
Paul Awassume, Mathieu Mbai and Ngamby Walter Elie of Cameroon
Mpo Gerly, Sylvestre Mangouandza and Sylvestre Mounkala of Congo Brazaville
Olivier Dende, A. Katemo, Guillaume Ndassa Ntshiedi and Nitu of Congo DRC
Jacques P Vougny of France
Jean Ony of Madagascar
Ruben Matevosyan.of The Netherlands
Uko Williams, Nubi and Okyere of Nigeria
Pascal Bushaija of Rwanda
Kiné Aw, Moussa Tine, Kré Mbaye, Baye Mballo Kebe, Mouhamadou Dia, Malang Camara, Mahmoud Baba Ly, Mohamed Dou Ndir and Moustapha Gueye dit Tafa of Senegal
A. Magnan of Seychelles
Gerard Leclaire of Tchad
Massa Lemu of Malawi
Aladji and Agbodoh-Talschau Komlan of Togo
Joseph Mushipi of Zambia
The UMURAGE Foundation is an international non-profit organisation, head-quartered in Amsterdam, which aims at promoting, supporting, connecting, recognizing and rewarding individuals, organizations, businesses and communities shaping Africa's collective legacy. Its vision is a world embracing and celebrating Africa's contributions to humanity's collective legacy.
The opening of the exhibition part II will take place on Tuesday 18 September, 16:00. You are all very welcome. Please register.
The exhibition can be seen during office hours in the ASCL Library (ground floor) and in the corridor on the third floor. The works are not for sale.
Date, time and location
02 July 2018
to
31 October 2018
Posted on 6 June, 2018. Last modified on August 28, 2018
Posted on 24 April, 2014. Last modified on May 12, 2017