A city walk : Safari in Leiden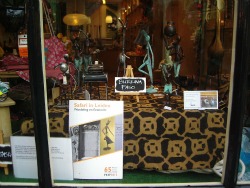 A safari in Leiden? Is such a thing possible in a city? Yes of course! And Leiden has a great number of African topics on offer too.
On 8 and 10 June about 60 people joined us in Leiden for the ASC's walking tour Safari in Leiden. The enthusiastic guides for this two-hour excursion were Edith and Jos (with vuvuzela) who led the groups of interested participants around the centre and discovered Leiden's African secrets.
Some of these discoveries included:
The late-Gothic church, the Pieterskerk, where the first black president of South Africa, Nelson Mandela, received an honorary doctorate from Leiden University in 1999.
A memorial plaque dedicated to Herman Coster in the central courtyard of the Academy Building. Herman Coster was chairman of the student body in 1889-1890 and died as a hero during the Second Anglo-Boer War in Southern Africa, where he was working as a lawyer.
Djebena, the only African restaurant in Leiden where you can enjoy delicious Eritrean meals.
The Wereldwinkel that offers a wide selection of Fair Trade products from Africa (and from Central and South America and South East Asia). And to mark our Safari in Leiden walks they had set up an attractive display in the window with a variety of African food and non-food products. A big thank you to them for this nice initiative!
Gardens of the Pharaohs: an exhibition of flowers, plants, herbs and trees from the age of the pharaohs that was organized by the Museum of Antiquities and the Botanical Gardens.
The Velvet Music Store where a big collection of African music is available.
The building at Oude Vest 79 where the office of the anti-apartheid movement's Boycott Outspan Action (BOA) was housed. The campaign against South African Outspan oranges was launched from here under the slogan Pers geen Zuidafrikaan uit! (Don't squeeze a South African dry!). The poster, with a white hand squeezing the head of a black person on a juicer became one of the best-known anti-apartheid posters in the world.
Many other African highlights were also pointed out to the group, who received a copy of the (beautiful) booklet entitled Safari in Leiden. It gives details of a bike tour and interviews with people who were born in Africa but live in Leiden today, for instance a teacher from Burkina Faso and a soccer player from Morocco.
Edith de Roos
Posted on 27 June 2012, last modified on 9 July 2012