Rolf Schneider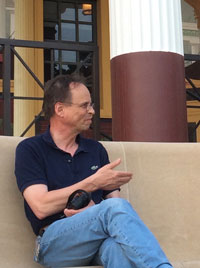 Rolf Michael Schneider is Professor Emeritus of Classical Archaeology at the Ludwig-Maximilians-Universität, Munich, and Honorary Professor for Classical Studies at the University of Cape Town. In 2018 he was Guitty Azarpay Distinguished Visiting Professor at the University of California, Berkeley. He is a specialist of Greek and Roman art with a focus on sculpture; further interests encompass the classical tradition in post-antique art history and cross-cultural exchange. Rolf has held senior positions in Heidelberg, Cambridge, and Munich. In 2008 he founded, with François Lissarrague and R.R.R. Smith, the series ICON, spotlighting the interaction of image and (con)text, with 18 edited volumes so far. In 2009 he began to work in and about South Africa.
Rolf is currently publishing the two volume book From Memory to Marble: The Historical Frieze of the Voortrekker Monument in Pretoria, co-authored with the art historian Elizabeth Rankin (Johannesburg/Auckland). Jointly published by African Minds (Cape Town) and De Gruyter (Berlin/Boston) in spring 2020 it will be available as both a printed book and open access (free of charge). This study is a new investigation into memory and history, especially the making and reading of one of the world's major monuments. Created when Afrikaner nationalism was on the rise, the historical frieze of the Voortrekker Monument gave visual form to the foundation myth of Afrikanerdom – the 'Great Trek' of their forefathers (here 1835-52) into the interior of South Africa to settle there for ever. The key question of the authors is how, about a century later, eighteen years of Voortrekker memory were transformed into a colossal historical narrative in marble, 92 metres long and 2.3 metres high. The twenty-seven scenes chosen for the frieze (ultimately sculpted in Florence in Carrara/Querceta marble) and the way they were portrayed provide a fascinating window: onto the debates and contradictions, principles and ideologies that were to dominate South African policies until the end of apartheid; and how all this has reframed the Monument ever since.
Recent publications:
Before the Empire: Egypt in Rome, in Beyond the Nile: Egypt and the Classical World, exhibition catalogue Getty Center, Los Angeles, 27 March – 9 September 2018. Los Angeles: Getty Publications, 203-210.
with Jorrit M. Kelder and Laurent Bricault, A Stone Alabastron in the J. Paul Getty Museum and its Mediterranean Context, in Getty Research Journal, 10 (2018): 1-16.
The Walking Madonna, in Dame Elisabeth Frink: Larger than Life, exhibition catalogue, 4 November 2017 – 6 February 2018. Cambridge: The Heong Gallery at Downing College, 2017, 23-31.
with Elizabeth Rankin, 'Copy nothing': classical ideals and Afrikaner ideologies at the Voortrekker Monument, in South Africa, Greece, Rome: classical confrontations, ed. Grant Parker. Cambridge: Cambridge University Press, 2017, 141-212.
Context matters: Pliny's Phryges and the Basilica Paulli in Rome, in The Archaeology of Greece and Rome. Image, Text and Context: Papers in Honour of Anthony Snodgrass, eds John Bintliff and Keith Rutter. Edinburgh: Edinburgh University Press, 2016, 402-433.
Herakles in New Zealand: Who are you? / Herakles in Neuseeland: Wer bist Du?, in The Labour of Herakles, by Marian Maguire. Revised edition with essays by Elizabeth Rankin & Patrick O'Sullivan and an introduction by Rolf Michael Schneider. Christchurch: PaperGraphica, 2015, 8-17.
with Ortwin Dally, Tonio Hölscher and Susanne Muth, eds, Medien der Geschichte. Antikes Griechenland und Rom. Berlin and Boston: De Gruyter, 2013.