Randall Fegley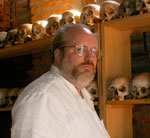 A political historian at Pennsylvania State University's Berks College, Randall Fegley specializes in the study of mass trauma, especially long-term conflicts, gross human rights violations and prolonged disasters in Rwanda, Equatorial Guinea, Uganda, South Sudan and Sudan. He lived, taught and completed Ph.D. research in Sudan from 1980 to 1984 and has returned to work there and in other African countries numerous times. He has been particularly active in the Sudan Studies Association, the leading scholarly organization on Sudan. Host of the SSA's 22nd annual conference in May 2002 and a member of the association's board from 2003 to the present, he has also served as the organization's president and executive director. As the coordinator of Penn State's four-year degree program in Global Studies, he set up an internship program in Rwanda. His latest book is A History of Rwanda Identity and Trauma: The Mythmakers' Victims. His other published works have examined Rwandan, Sudanese, Belgian and Equatorial Guinean political history, the mythologies that perpetuate conflict; elections and governance in post-trauma societies; and the rehabilitation of former slaves and child soldiers.
Recent publications:
Books include Beyond Khartoum: A History of Sub-National Government in Sudan and A History of Rwanda Identity and Trauma: The Mythmakers' Victim.