Nnenna Ifeanyi-Ajufo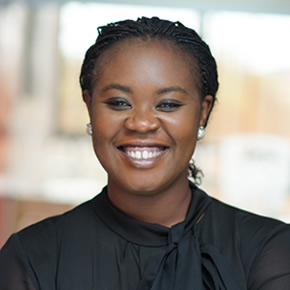 Dr Nnenna Ifeanyi-Ajufo is a Law Lecturer at Lancaster University Ghana. After completing a Bachelor's degree in Law (LLB) at the University of Abuja in Nigeria in 2005, she attended and graduated from the Nigerian Law School in 2006 and was called to the Nigerian Bar. She obtained a Master of Laws degree, LLM International Information Technology Law with Distinction from the Robert Gordon University in the United Kingdom in 2009 and also obtained a Doctor of Laws Degree, LLD in International Law from The University of Johannesburg, South Africa in 2018. She also has a Postgraduate Certificate in International Academic Practice from the University of Lancaster in the United Kingdom and has attended various courses with academic credits including an international criminal law course at the University of Salzburg, Austria and courses offered by the World Intellectual Property Organisation and the World Trade Organisation. She is also currently a candidate of MA African Studies at the African Studies Institute of University of Ghana where she is researching on Neo-colonialism in Constitutionalism and the applicability of the Repugnancy doctrine to African Customs in British Post-Colonial Africa. Nnenna is passionate about human rights and development in Africa, her primary concern being ensuring access to ICTs through a human rights framework for everyone in Sub-Saharan Africa.
Recent publications:
Ifeanyi-Ajufo N, 'From Ancient Traditional Remedies to Contemporary Herbal Medical Practice: An Analysis of the Intellectual Property Regime for Traditional Knowledge in Ghana' (Forthcoming in the University of Ghana Faculty of Law Edited Book Project 'Ghana at 60' 2018).
Ifeanyi-Ajufo N, 'The Human Rights of Persons With Disability: An International Law Perspective' (2018) 1 Lancaster University Ghana Disability Journal 1-23.
Ifeanyi-Ajufo, N. 'Technology and Human Rights: Revisiting the Role of ICT in Bridging Gender Inequality in Sub-Saharan Africa' in Garrido M. (ed.) Human Rights and Technology: The 2030 Agenda for Sustainable Development (University of Peace/United Nations, 2017) pg 139-159.
Ifeanyi-Ajufo N, 'Going Beyond Borders: Jurisdiction in Cyberspace' (2017) 3 Ghana Institute of Management and Public Administration Faculty of Law Journal 133-156.
Ifeanyi-Ajufo, N. 'The Digital Age and the Promotion of the Right of Access to Information' in Omaka, A. (ed.) Footprints on the Sands of the law (Gedenkschrift in Honour of Justice Lazarus Nwuzor) (Enugu: Kingdom Age Publications, 2017) pg 21-45.