Agustina Alvarez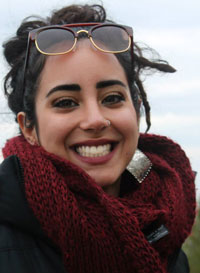 Agustina holds both a Bachelor degree in African Studies from the University of Vienna, Austria (2014) and a Master degree in African Studies from Leiden University, The Netherlands (2016). On top of that, she has specialized in East African Contemporary Politics and African International Relations and Foreign Policy at the University of Dar es Salaam, Tanzania.
Agustina is fluent in Kiswahili and focuses her research mostly on East Africa, but also on the Spanish speaking countries' relationships to the continent, like the Cuba-Angola relations between 1960-1980s and Equatorial Guinea. Agustina tends to be interdisciplinary and works across different institutions, combining work in academia and government. Her master thesis focused on sacred forests in the Kilimanjaro area, Tanzania, and analyses the current reasons behind their conservation from an anthropological and ecosophical perspective. Her aim is to investigate people's environmental ethics and emphasize the necessity for the modern conservation agenda to take worldviews that push people towards specific practices into account when formulating new environmental policies. More generally, Agustina strives to incorporate Humanities in the more technical and perhaps abstract arena of International Relations and rethink the nature of such interconnectedness.
After her Master studies, Agustina worked at the European External Action Service (EEAS) in Brussels, focusing on the diplomatic relations between the European Union and the Horn of Africa and East Africa. Currently, she continues her research on sacred forests independently and she is expanding her knowledge and gaining experience within the field of international organizations.